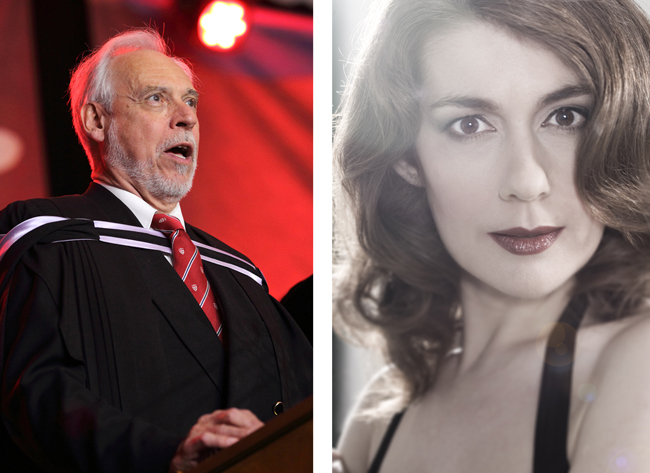 By McGill Reporter Staff
First there's the skirl of the pipes, then Winston Purdy's rich baritone rolls across the audience as he sings the University anthem, Hail, Alma Mater, to  mark the beginning of almost every Convocation ceremony since 1999. That musical accompaniment has been a feature of decades of processions of students, faculty and families as they walk into the Convocation tent.
Now after 18 years Purdy says his "15-minutes of fame," is coming to a close, Winston Purdy is relinquishing the stage to colleague and fellow music professor Tracy Smith Bessette, who has taught singing the past two years in the Voice department at the Schulich School of Music where they both work.
Purdy recommended Smith Bessette. "She's a young voice teacher – and active as a performer so I thought she'd be a good choice," he says.
Purdy says it was just getting to be too much for him. "In the early 2000s the number of ceremonies was expanded and this spring it's 14. So it's now a big commitment for everyone involved," he says. " I really enjoyed doing it, and my voice is still OK, but I find getting around to be more and more difficult. I shall miss it this year, but it's good that someone younger takes over now and even better that it's a staff member from the Music School. "
Purdy first took the stage at Convocation 18 years ago, taking over for his late wife, Kathleen Anderson – herself a Convocation fixture since the late 1970s. Purdy says being able to continue in his wife's footsteps made each ceremony "very significant for me."
For her part, Smith Bessette says she is very honoured to be inheriting the tradition from Purdy and his wife.
"The first time I heard Hail, Alma Mater, it was actually being sung by Professor Purdy at my own doctoral convocation last year! I still need to find a copy of it for myself so that I can learn it before the 14 convocations ceremonies," she says with a chuckle. "That is quite a large number of people and to tell you the truth the nerves never entirely disappear. You just learn how to use the nervous energy for 'good' rather than let it debilitate you. It's still a bit nerve wracking to sing in front of all of your colleagues and students, so I imagine the most challenging convocation for me to sing will be the Music one."
The first McGill University Song Book appeared in 1879, compiled by an unidentified arts student. It included ten songs about McGill and folk songs including what may be the earliest published version of Alouette. The 1885 edition was compiled by a committee including Charles Moyse (later Dean of Arts), and Bernard J, Harrington (the first Macdonald Professor of Chemistry). While the origin of many of the songs and the first compilation remain unknown, there is evidence that songs and singing formed an integral part of 19th and early 20th Century student life at McGill.
Hail, Alma Mater is first noted in the program for Principal and Vice-Chancellor Douglas's Installation in 1938. Since 1938 it is a regular feature of Installation and Convocation ceremonies.
Hail, Alma Mater
Hail, Alma Mater, we sing to thy praise;
Loud in thy Honour, our voices we raise.
Full to thy fortune, our glasses we fill.
Life and Prosperity, Dear Old McGill.
Hail, Alma Mater, thy praises we sing;
Far down the centuries, still may they ring.
Long through the ages remain – if God will;
Queen of the Colleges, Dear Old McGill