In May, McGill bestowed internal recognition awards on three cohorts of McGill professors. Twelve senior scholars received James McGill Professor (JMP) awards, including eight for a second seven-year term. Fourteen tenure-track assistant or associate professors received William Dawson Scholar (WDS) awards, seven for a second five-year term. Twenty scholars became Distinguished James McGill Professors (DJMP) – McGill's highest honour – awarded to late-career scholars whose work exemplifies excellence and international leadership.
"McGill's WDS JMP and DJMP awards recognize and reward excellence, innovation and impact in research," said Christopher Manfredi, Provost and Vice-Principal (Academic). "Awardees represent a wide range of disciplines, but they all have in common a record of outstanding, original scholarship that has advanced knowledge within and beyond the academy."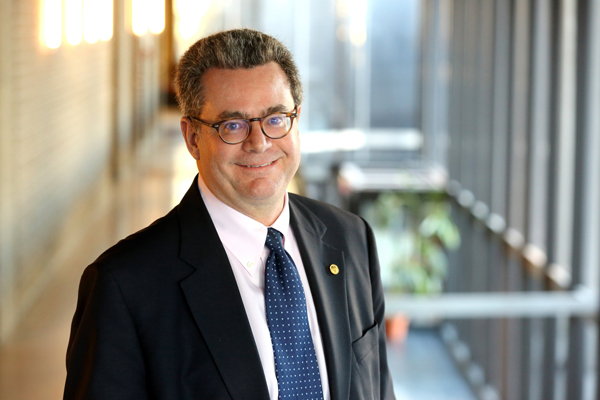 Among those who received the Distinguished James McGill Professor award are Claudia Mitchell, of the Faculty of Education; Henri Darmon, of the Faculty of Science; and Alain Pinsonneault, of the Faculty of Management. Professor Mitchell was recently awarded a significant grant from the Government of Canada to address issues of sexual and gender-based violence. In 2018, Professor Darmon was awarded the prestigious CRM-Fields-PIMS Prize and the Frank Nelson Cole Prize in Number Theory. Professor Pinsonneault received a SSHRC Insight Grant in 2018 exploring innovation and information technology in management.
The James McGill Professor awardees in 2019 include Political Science Professor Daniel Béland, the Director of the McGill Institute for the Study of Canada. Professor Béland has an international reputation for expertise on universal social policy and health care reform, the role of ideas in policy development and the relationship between fiscal policy and welfare state development.
Among the newly appointed William Dawson Scholars is Associate Professor Marie Manikis, who was also the 2019 recipient of the Principal's Prize for Outstanding Emerging Researchers. Professor Manikis' scholarship is interdisciplinary, comparative and employs social science methodologies to advance the available knowledge in criminal law and criminal justice.
Provost Christopher Manfredi highlighted that while each recipient earns the title, the award recognizes an ongoing commitment to research excellence. "I am delighted to honour the 46 colleagues and awardees, thereby celebrating their research accomplishments to-date and supporting their commitment to research inquiry and application in the period ahead," he said.
Both the JMP and WDS awards come with an annual salary supplement and an annual research allowance not exceeding $25,000. The Distinguished James McGill Professor award provides for a $10,000 academic stipend or a $15,000 research grant allowance. DJMPs have held James McGill Professorships for two seven-year terms while maintaining an outstanding research record, or who have held a Canada Research Chairs (Tier 1) for two seven-year terms. DJMP awardees hold the distinction until retirement, and those granted Emeritus status retain the title.
A current listing of all DJMP, JMP and WDS awardees: