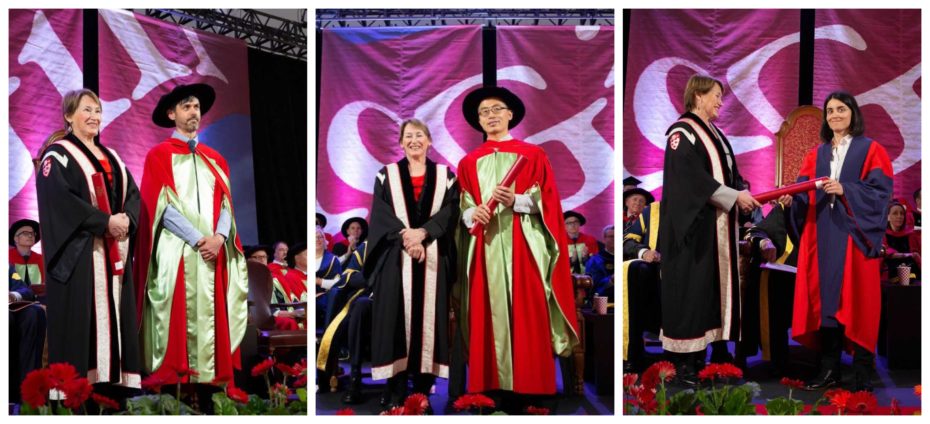 Since the establishment of the Principal's Prize for Outstanding Emerging Researchers in 2013, Principal and Vice-Chancellor, Suzanne Fortier has honoured 18 of McGill's most accomplished early-career researchers. This year, three outstanding members of McGill's faculty, Professors Rowan Barrett, Marie Manikis and Jianguo (Jeff) Xia have joined their ranks, receiving the prize during the convocation ceremonies for the Faculties of Law and Science on May 30 and May 31.
"It is a point of pride for McGill to award this prestigious distinction each year to three highly accomplished early career researchers," said Principal and Vice-Chancellor, Suzanne Fortier. "I am delighted and honoured to have had the opportunity to recognize and celebrate Professors Barrett, Manikis and Xia during McGill's spring convocation ceremonies. My congratulations and best wishes to them for continued success!"
Administered by McGill's Office of the Vice-Principal, Research and Innovation, the prize, which includes a monetary award, honours researchers across all disciplines. McGill awards up to three prizes annually, shining a light on McGill's excellent young talent and providing them with an advantage as they apply for external awards with a prestigious internal distinction.
Rowan Barrett: Fusing the study of evolution with molecular ecology, genomics and computational biology
"These types of prizes for young researchers are really important and very forward-thinking. They support researchers at a vital point in their careers by providing confirmation that we are making good decisions at a time when we are often uncertain of the directions we are taking our growing research programs," says Professor Rowan Barrett. "They also give us the confidence to pursue bold, high-risk but potentially high-reward projects."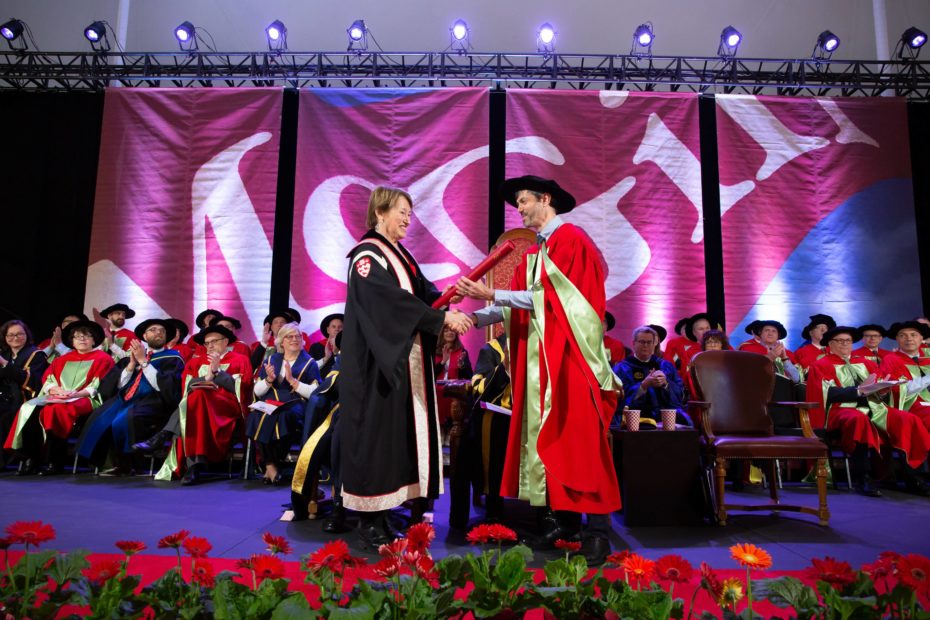 Rowan Barrett is an Associate Professor affiliated with the Redpath Museum and the Department of Biology, a Tier II Canada Research Chair of Biodiversity Science, and leader of McGill's Barrett Lab.
As an evolutionary biologist and biodiversity expert, he fuses the study of evolution with molecular ecology, genomics and computational biology, having become a leader in the new field of experimental Ecological Genomics. Barrett's research produces testable predictions about the evolutionary capability of natural populations to adapt to changing environments in a world where rapid environmental change poses a significant threat to biodiversity. The construction of realistic models of 'evolutionary rescue' – the prevention of extinction in deteriorating environments via the process of adaptation – depends on the ability to forge connections among the environment, traits that are under natural selection, and the genetic basis of those traits. These discoveries have practical implications for conservation, plant and animal breeding, and medicine.
Barrett's interdisciplinary research is recognized by granting agencies and premier evolutionary societies. He has been awarded the "triple crown" of awards in his field, the John Maynard Smith Prize from the European Society for Evolutionary Biology, the Young Investigator Prize from the American Society for Evolutionary Biology, and the Dobzhansky Prize from the Society for the Study of Evolution.
"It is a great honour to receive these awards," Barrett reflects. "My research has required a lot of very hard work and so it feels good to have those efforts recognized by the scientific community in Evolutionary Biology. I am very fortunate to have had tremendous support from many people along the way: my family, my lab group, my mentors and collaborators, my departmental colleagues, and the Faculty of Science. They have all played important roles in contributing to the research successes being recognized by these awards."
Sparking curiosity in his students
In his five years at McGill, Barrett has mentored two postdoctoral researchers, 13 graduate students, and 22 undergraduate students. These trainees have an exceptional record of productivity, with thesis chapters published in top journals in their field. In mentoring, he hopes his relationship with trainees eventually develops into one of collaboration, rather than supervision. He strives to foster an appreciation for the importance of doing basic research to understand the way the natural world works.
"I aim to stimulate curiosity about the fundamental questions in evolutionary biology and show how exciting it can be to test evolutionary hypotheses in nature, where things rarely go as planned," says Barrett.
Research from Barrett's lab combines a variety of approaches and study systems to help understand the predictability of evolution though a combination of ecological field transplant experiments, molecular biology, genomics and computational biology. Although he faces considerable responsibility as the leader of the lab, he has a lot of fun working with his students and postdocs.
"One of the most enjoyable aspects of leading a lab is brainstorming with my students and postdocs about new experiments," explained Barrett. "I love hearing the ideas they come up with, especially when they push us to try out unusual and creative approaches!"
Learning about climate change from tattoos
Barrett and his research group are undertaking a number of new projects investigating evolutionary responses to changing environments, using a wide range of biological taxonomy such as fish, birds, lizards, mice and microbes.
One of their more innovative projects involves a collaboration with Montreal's Tattoo Lounge. They are using the microbiome within human skin piercings as a model system to understand how biological communities reassemble after a major environmental change. Modern piercing practices involve local skin sterilization prior to piercing, which functions as a catastrophic environmental disturbance that eliminates most if not all microbes. Piercing of the skin then produces a novel ecological niche that should differ from non-pierced skin in many ways, temperature, pH levels, humidity, and exposure to wind and ultraviolet light.
"We expect these new conditions to promote the growth of distinct microbiomes from that of non-pierced skin, and we're using genomic methods to investigate how ecological and evolutionary processes contribute to these differences," he says.
Marie Manikis: Improving the relationship between marginalized populations and the criminal justice system
"I am very honoured and grateful for this generous prize," says Professor Marie Manikis. I am lucky to be surrounded by generous and innovative colleagues and students from the Faculty of Law and McGill without whom this accomplishment would not have been possible. Being part of this vibrant and supportive community has been both encouraging and inspiring for undertaking original research and teaching initiatives."
Marie Manikis is an Assistant Professor and William Dawson Scholar in the Faculty of Law. She has been teaching Criminal Justice, Criminal Law, Sentencing, and Criminal Procedure since 2013.
Professor Manikis' scholarship is interdisciplinary, comparative and employs social science methodologies to advance knowledge in criminal law and criminal justice. Her current and future research understands law as a space that creates and challenges structural injustice, and examines the inclusion and exclusion of certain voices in legal processes. In her numerous publications, Manikis examines power dynamics, marginalization and the relationship between the state, institutions and the individual citizen, as well as processes to hold the state and institutions accountable in criminal justice.
"I hope that my research achieves a societal impact by providing government, policy-makers, criminal justice professionals, communities, and international citizens with tools to work towards achieving greater equality and citizen participation in the criminal justice process, as well as promoting greater state transparency and accountability," says Manikis.
Her article, Punishing while Presuming Innocence: A Study on Bail Conditions and Administration of Justice Offences in Quebec, which explores the relationship between the bail process and punishment, was awarded the Fondation du Barreau Prize in 2018 for best article. Her work has been cited in key court decisions in Canada and the UK on the role of victims in sentencing. She has been called upon by various justice entities to inform legislation and policies on victims' rights and the criminal justice process.
Blazing trails in criminal justice education in Canada
In addition to being a remarkable researcher, Manikis currently mentors seven undergraduate students and supervises the thesis work of five graduate students. Her research, teaching, and mentorship has helped her students develop various skills, including analytical and empirical methods that go beyond traditional tools of legal research.
"Students have been active in my research and have co-authored peer-reviewed articles, widely read op-eds, and blogs with the aim of developing socio-legal skills, but also to bring forward their voices as important contributors to wider social discussions," she says.
As part of their commitment towards transsystemia – teaching multiple legal traditions simultaneously – and interdisciplinarity, Manikis and her colleagues proposed and created a new course entitled Criminal Justice/Justice pénale, a cornerstone of the Faculty of Law's renewed curriculum which began in 2016.
The former criminal law course focused on the common law and on a traditional doctrinal approach to crime and criminal liability. The new course, the first of its kind in Canada, expands the former focus and also responds to the recommendations made by the Truth and Reconciliation Commission by examining a range of systems designed to identify, understand, and respond to a wider concept of wrongdoing and responsibility.
As one of the instructors of the course, Manikis presents the criminal justice system as a product of history and institutional powers, and discusses how crime is understood and responded to within different traditions, notably continental and Indigenous.
"My hopes are that this transsystemic approach to criminal justice will provide the next generation of students, teachers, and researchers with the opportunity for deeper engagement with social contexts and a broader range of analytical frameworks to understand and respond to those complex issues as well-rounded jurists and responsible citizens."
Examining the participatory role of victims in the criminal justice process
Manikis plans to continue examining the participatory role of victims in the criminal justice process and developing participative models, based on empirical and theoretical findings that conceive victims as an agent of accountability and that challenge state and institutional decisions. From this theoretical standpoint, she hopes to expand her comparative and empirical analyses of the role of victims beyond the common law.
Furthermore, Manikis plans to continue working on a wide empirical study about the social functions of pre-trial detention locally and comparatively between legal traditions. The project uses criminological and sociological theories of punishment and sentencing to analyze data that comprises the collation and analysis of bail process observations, court decisions, and court files.
"I plan to examine different conceptions of victimhood and accountability, map out the diverse ways that victims of crime can and have challenged the state and various institutions, as well as deconstruct some assumptions that underpin criminal justice traditions," she explains.
Jianguo (Jeff) Xia: Advancing the field of metabolomics through big data analytics
"I feel lucky and honoured to receive this award and recognition," says Professor Xia. "My research area is quite uncommon compared to most of my colleagues in the Faculty. Sometimes, you cannot help feeling a bit 'marginalized' in this aspect. The award certainly helps rectify that feeling. This award also means a lot to members in my group – they are very proud to work in this area."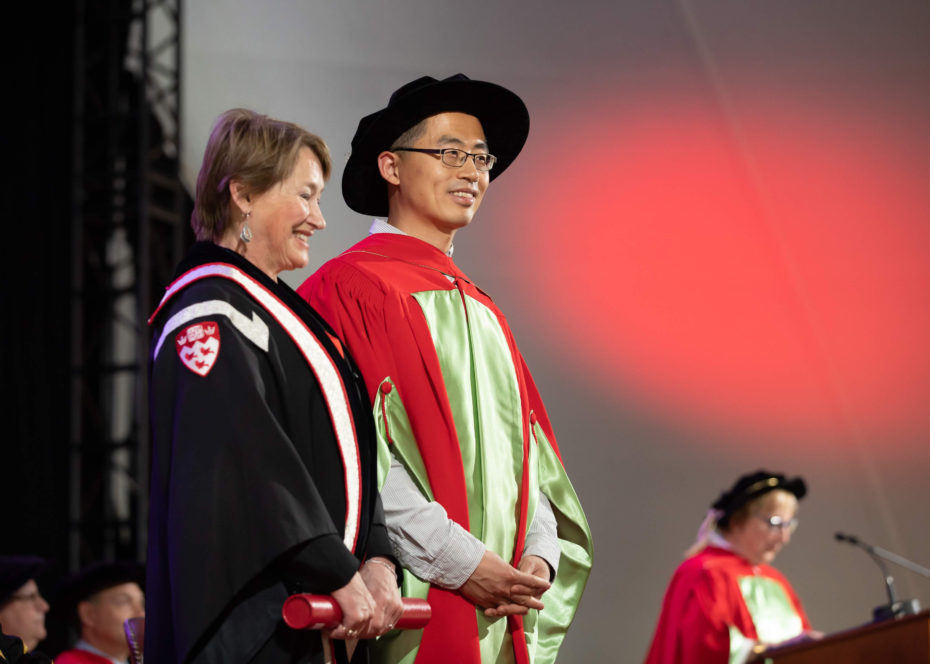 Jeff Xia is an Assistant Professor in the Institute of Parasitology and the Department of Animal Science, a Tier II Canada Research Chair in Bioinformatics and Big Data Analytics, and leader of the Xia lab.
"Big data is now everywhere in biomedical, agricultural and environmental research," he says.
In his short time at McGill he joined the University in 2015 – Xia has cultivated a global presence in the world of big data science. His research focuses on developing cutting-edge algorithms, tools and databases to advance the field of metabolomics, the systematic study of small molecules in a biological system. Understanding this data and maximizing their value for better decision making have become the key obstacle across multiple disciplines. His goal is to leverage bioinformatics, statistics and large data to study the effects of biological, environmental and nutritional factors on health and disease in humans and animals.
Xia exhibits a stellar record of accomplishments at such an early stage in his career. He has published 59 peer-reviewed scientific papers and seven book chapters with more than 12,000 citations. He has received major awards and research grants from Genome Canada, the Natural Sciences and Engineering Research Council of Canada and the National Institutes of Health.
Big data and a new-generation of scientific inquiry
In addition to being an excellent researcher, Xia is currently mentoring eight productive graduate students in multi-disciplinary, highly collaborative projects. His mentorship focuses on training new-generation scientists that are comfortable with both data generation and data analysis.
"In the coming years, the big data generation and information technologies will bring fundamental changes in our research activities," he says. "My research and mentorship aim to facilitate this transition and accelerate the translations."
As an active teacher in the Faculty of Agricultural and Environmental Science, Xia is equally excited about sharing his knowledge with his students. As the ability to analyze large data sets has become an essential skill for those working in biomedical, agricultural and environmental research, he prepared and delivered a new course entitled Statistical Bioinformatics in the Department of Animal Science.
The goal of this course is to introduce modern statistical concepts and practical programming skills for analyzing common big data generated in life sciences. Students are mainly senior undergraduates or first year graduate students whose research projects involve big data generation.
"They are very motivated to learn and are very eager to explore different approaches to better understand their own data," says Xia. "After the course, they become 'local' experts in their own labs for data analysis. I believe these new-generation scientists will become the mainstream in the future."
Developing software tools for metabolomics research
Xia is a recognized pioneer in big data science and in the development of software tools that are routinely used by thousands of international researchers. He initially created the successful software tool, MetaboAnalyst software suite, as a side project to help researchers conduct autonomous metabolomics data analyses. The key design concept of the software is to empower and educate researchers using the tool by helping them better understand their data, while at the same time, teaching them about the analytical methods.
The MetaboAnalyst software suite has been used approximately two million times by 57,000 users between January 2017 and 2018. Xia believes that the software's worldwide success is due to its transparent, flexible and user-friendly interface.
"We also developed several other successful tool suites for analyzing gene expression, biological networks, and microbiome data," he says. "Now we are interested in integrating different types of big data generated using different technologies to reveal systems-level patterns or insights."
What's next for big data analytics?
In recent years, innovative researchers have made significant advances in the field. There have been important developments in web-based virtual reality for big data analytics, and in the integration of artificial intelligence into current platforms to enable deep analytic insights.
"It is an exciting time for researchers in big data analytics. With larger data and more computing power, a lot of interesting research topics that were unimaginable before now have become feasible," says Xia.
Another big data research topic will be enabled by Xia's recent Canada Foundation for Innovation (CFI) award on a cutting-edge mass spectrometry platform capable of high-throughput, high-resolution metabolomics data collection. When this platform is set up, Xia's research group will be able to generate data, computational analysis and validation – all within the same team.
"We are eager to apply this platform to study aging, nutrition and metabolism," he says.