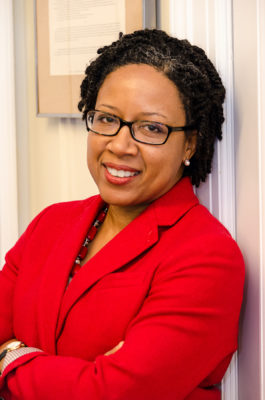 Adelle Blackett came to McGill in 2000, from Geneva, Switzerland, where she was a labour law specialist at the United Nations' International Labour Organization. It's just one example of the incredible breadth of knowledge and experience that Blackett brings to every course she teaches – outstanding assets that helped earn her the 2020 Principal's Prize in Excellence in Teaching – Full Professor category, which was announced in conjunction with Fall Convocation.
Over her 20 years at McGill, Blackett, the Canada Research Chair (Tier 1) in Transnational Labour Law and Development, has taught a wide range of courses, mainly in the fields of labour and employment law, as well as trade regulation. In her early years here, she also taught the Foundations of Canadian Law.
Blackett has often taught in French, including one course on International Development Law that was supposed to be taught from Côte d'Ivoire – until a coup d'état made that impossible.  Despite the turmoil, the African Development Bank still maintained its scheduled participation in the course via videoconference from its temporary new location in Tunisia.
"It was an amazing experience for students, who learned about international development law through a close study of a regional institution and its attempts to reconcile international law and policy with regional realities," says Blackett.
Most recently, in addition to teaching Employment Law and Trade Regulation, Blackett has taught Critical Race Theory and Slavery and the Law. To commemorate the International Labour Organization's centenary, she taught a special seminar on the Transnational Futures of International Labour Law.
Homecoming of sorts
Blackett herself is a graduate of McGill's Faculty of Law. When she started her studies here in 1989, she didn't know that one day she would return to teach. "That realization came slowly, and the seed was actually planted by some of my professors at McGill, and by the example of scholars like Patricia Williams who we invited to visit the University early during my time as a law student here."
"I feel incredibly privileged to be able to encourage students to believe in themselves and in their ability to thrive. I also feel like I learn constantly from my students," says Blackett. "But good teaching is hard work. There are no shortcuts. If this is a challenge, it is one I am happy to have the opportunity to meet."
Making the most of a difficult situation
While COVID-19 has had its negative impacts on people's lives, it has also galvanized communities, including that of the Faculty of Law. Blackett, for one, is grateful for the kindness and support she sees on a daily basis.
"I feel so fortunate to have students who have made the most of a difficult situation. There has been a lot of compassion and understanding going around and my focus has mostly been to foster more sustained conversations," she says. "For example, I have lengthened my office hours, not only to make space for inevitable technological challenges but mostly to ensure that my students know that they can take their time and really be heard."
That her students are facing the challenge of COVID-19 head on and with such strength of character, doesn't surprise Blackett. She admires the plurality of their community and sees the strength that community gains from the diverse backgrounds and lived realities.
"They bring a commitment to excellence, and often seem to embody how deeply excellence is intertwined with equity," she says. "They are willing to work remarkably hard when they are passionate about what they are being taught."
Impetus for change
When asked what teaching means to her, Blackett talks about being an impetus for change both at the University and beyond the Roddick Gates.
"Teaching is a vocation for me. That vocation entails remaining constantly in motion, fostering ongoing learning and change," she says. Blackett cites a passage from Trinidadian activist-historian C.L.R. James' 1963 memoir Beyond a Boundary that particularly resonates with her:
"Time would pass, old empires would fall and new ones take their place, the relations of countries and the relations of classes had to change, before  I discovered that it is not quality of goods and utility which matter, but movement; not where you are or what you have, but where you have come from, where you are going and the rate at which you are getting there."

"My vocation has encompassed efforts to build a university that embraces equity and excellence as mutually constitutive," she adds.  "And as one of only a handful of Black scholars at McGill, it extends far beyond the University's walls to engagement with communities locally and internationally."