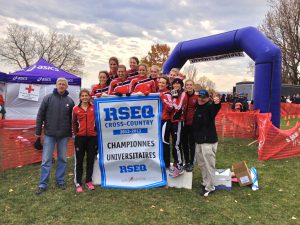 By Earl Zukerman
Sophomore Jessica Porfilio of Longueuil, Que., led a podium sweep for McGill as the Martlets captured the RSEQ provincial cross-country running championship on the Plains of Abraham, Saturday.
It was the third straight conference title for the Martlets, who missed the provincial crown in 2009 after winning it for 20 consecutive seasons from 1988 to 2007.
The Martlets were first of five women's teams with 19 points overall. Laval was a distant second with 53 points, followed by Sherbrooke (79), Concordia (108) and UQTR (137).
Porfilio, a 20-year-old nursing major, finished first of 56 entries and was named after the race as the conference's runner of the year. She completed the five-kilometre course in 18 minutes, 49 seconds, edging out her nearest rival by an eight-second margin.
Other McGill scorers included team captain Sarah McCuaig (silver, 18:57) of Waterloo, Ont., and Madeleine Cummings, a senior from Toronto, who claimed bronze in 19:09. Sophomores Evelyn Anderson of Calgary and Jullien Flynn of Sault Ste. Marie, Ont., were sixth and seventh, with respective times of 19:22 and 19:28.
Rounding out the top seven spots, which earned all-conference honours, was Sherbrooke's Kim Turcotte (4th, 19:13) and Laval's Sarah-Michelle Brochu (5th, 19:21).
On the men's side, Laval claimed the conference title with 23 points, followed by McGill (71), Sherbrooke (72), UQAM (133), UQTR (141), Concordia (141) and UQAC (176).
Laval's Charles Philibert-Thiboutot finished first of 68 runners, completing the 10k course in 32.37. Redmen freshman Benjamin Raymond, a native of Laval, Que., claimed silver in 32:39 and Concordia's Ryan Noel-Hodge took bronze in 32.43.
Rounding out the top seven all-stars was four Laval runners, including Emmanuel Boisvert (32:49), Maxime Lapierre (33:07), Anthony Larouche (33:18) and Jean-Simon Fournier-Dufour (33:38).
Raymond, a physical education freshman, received rookie-of-the-year honours, teammate Charles-Edward Litwin, a first-year pre-med student from Montreal, won the award for combining leadership with citizenship and McGill's Dennis Barrett was named women's team coach of the year.