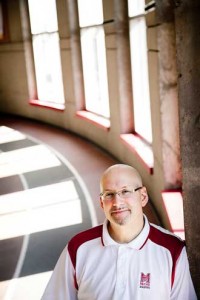 By Neale McDevitt
Everyone has seen it on the news; ardent fans camping out overnight in front of the box office in order to snap up tickets to a mega-concert or the Stanley Cup Finals. But camping out to register for McGill intramural hockey?
"Oh yeah, lawn chairs, sleeping bags – the works," said Perry Karnofsky, Assistant Manager, Intramurals, in the Department of Athletics, with a chuckle. "Good thing, too, because once registration was full, other teams were turned away."
While it has been a number of years since the last sleepover sighting, McGill intramurals have never been so popular. Open to students, staff and alumni, the intramural program attracts up to 8,000 participants each year.
As always, the most popular sports are such staples as hockey, basketball and soccer – which had 98 indoor teams between them last semester. But for people looking for something a little out of the ordinary there is always inner tube water polo or that old childhood favourite, dodgeball. "Last year was the first for dodgeball, but it was very successful," said Karnofsky. "We had 16 teams, but we're hoping to grow it this year."
The intramural program also runs squash, tennis and 4-on-4 volleyball tournaments.
Each semester-long season includes league games (five in the fall, six in the winter) and playoffs pitting divisional leaders against each other. Although not as storied as Lord Stanley's Cup, the McGill stein awarded to each member of the championship team is highly coveted.
"Holy cow, you can't believe how crazy people get to get their hands on these mugs," Karnofsky said with a smile.
So much so, the almost entirely student-run program has its own Discipline Committee "In the heat of the moment, people sometimes take things too far," Karnofsky said. "Although it doesn't happen too often, we have to hand out suspensions ranging from one game to the entire year."
Mostly, however, it is just good fun, giving participants a perfect way to be active and blow off a little steam regardless of their athletic pedigree. The leagues are divided to along three levels: competitive, intermediate and recreational. "We get some athletes who could have played varsity but chose not to go that route, and others who've never played an organized sport in their life," Karnofsky said.
"In fact, it's perfect for people, like myself, who hate training just for the sake of training."
Because of the popularity of intramurals, it is important that people register their teams as early as possible. "Every year I have people showing up at my office begging me to register their team because there are no more spots," Karnofsky said.
Captains must enter their team by submitting a completed registration form and paying the entry fee in the Client Services office, with registration held at the beginning of each semester. Teams are taken on a first-come, first-served basis and there are no guarantees a team will be registered before all the slots are filled.
Unless you bring a sleeping bag.
For more information, or to register your team for the fall intramural leagues, go to www.mcgill.ca/athletics/recreation/intramurals/. Online registration begans August 25.