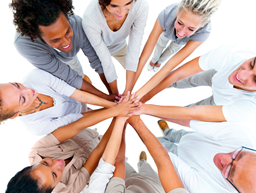 This year's Leadership Development Program promises to be engaging.  The group of some 50 supervisors, change agents and academic advisors registered in this year's program are highly diverse linguistically and in their years of experience at McGill and elsewhere.  And for the first time, the program has attracted more men and more techies.
Johanne Houle, Director, Organizational Development, points out that each year brings a different perspective. "People are extremely busy; they know it is important to slow down and take time to focus on learning new skills now, which will enable them to fast-track later in real time on the job."
This year's program has become a 'learning lab' where teams will experiment together. They will journey for the first part of the program in mixed groups – all three streams mixed and spread out into three different groups of about 16 participants in each – to really learn from each other, from their similarities and from their differences.
Guillaume Trottier, Program Manager, Content Management (CCS), is enthusiastic about the program. "The program gives us tools to better interact with others and it increases overall efficiency and effectiveness. It also helps to build self-confidence. We are in a trusting environment where we can share experiences and coach each other in a positive and respectful way."
During the theoretical and experiential journey, participants are grouped into triads or quartets with fellow travelers who are there to encourage them to dare to take healthy risks in applying their knowledge and skills in these times of change. Learning partners are there to encourage each other and give each other feedback – and sometimes just to listen, as much of the learning involves personal reflection and experimentation with new skills, tools and behaviours. "Too often, we claim we don't have time to stop and think or reflect; instead we react.  Well, not here," says Johanne.
In the latter part of the program, participants will engage in three full days of more specialized training with those from their respective streams. As well, they can choose two other workshops as electives or will soon be able to substitute an elective with a project that serves the McGill community while enabling them to put their skills fully into practice. Much of the program is about building confidence, skills, community and overall institutional capacity. It's also about building a network.
This year, the program offers an online community on CenterStage with articles and blogs – a learning portfolio that provides ample opportunity for capturing learning and insights, as well as concrete components that are vital to career development and advancement.  To find out more about the Leadership Development Program, click here