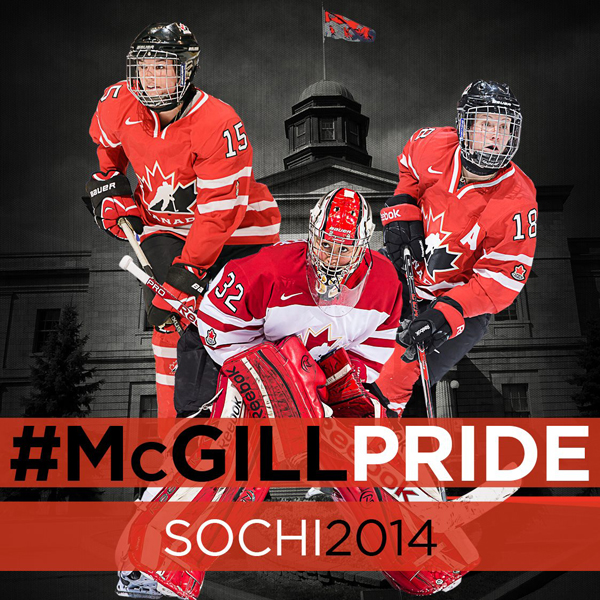 By Earl Zukerman
Two McGill graduates played a prominent role as Canada defeated Switzerland 3-1 in a women's hockey semifinal at the Sochi Olympics, Monday and advanced to a gold medal showdown with the U.S.
A point-shot from former McGill defenceman Catherine Ward was redirected for the winning goal by Natalie Spooner, her second marker in the opening period. Only 23 second later, Mélodie Daoust added an insurance tally, her first career goal at the Winter Games.
Ward, who was named CIS rookie of the year with McGill in 2006-07 and led the Martlets to a pair of national championships, was credited with one shot from the blueline and played a breath-taking game-high of 27 minutes and 57 seconds.
Daoust, who also merited CIS rookie-of-the-year status in 2011-12 and followed that with CIS player-of-the-year honours last season, had two shots on net and was credited with 10:44 of ice time.
Goaltender Charline Labonté, a third product of the McGill Martlets was in the lineup but didn't see any action despite posting a 2-0 record in the preliminary round.
The McGillian trio will be gunning for gold on Thursday at 12 noon (eastern).
In other results involving the half-dozen Olympians from McGill, Jan Rossiter, a former nordic skier with the Redmen, finished 82nd overall in the men's cross-country five-kilometre classic skate on Feb. 14.
Two days earlier, in women's snowboarding, Alexandra Duckworth, a McGill arts student on leave, finished 11th overall in the halfpipe semifinal. The other last McGillian competing at the Games is cross-country skier Daria Gaiazova, a part-time commerce student, who was 25th overall in the women's individual sprint and 44th in the 10k classic race.
For a Day 5 Olympic Update, go here.
To read about all 18 McGillians at the Sochi Games, go here.