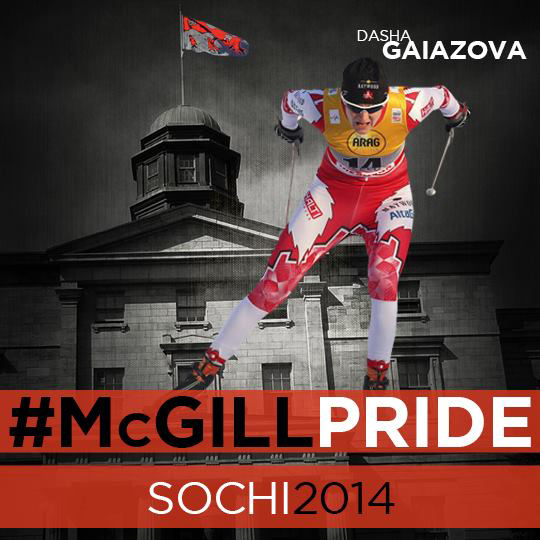 By Earl Zukerman
Goaltender Charline Labonté of Boisbriand, Que., made 25 saves as Canada defeated the U.S. 3-2 on Wednesday in women's hockey at the Winter Olympics to finish atop their pool with a 3-0 record in the qualifying round.
"It felt so good, we've been struggling a little bit the past couple of games against them," said Labonté, who played five seasons for McGill, graduated last year with a degree in physical education and is currently working on a master's degree in sports psychology. "We've worked really hard to readjust and become a better team. They came out really strong, as expected, so I'm glad we came up with a win."
Labonté, one of three McGill products in the Team Canada lineup, was joined by veteran defenceman Catherine Ward from the Town of Mt. Royal, Que., and rookie forward Mélodie Daoust of Chateauguay, Que.
Ward, who graduated with a commerce degree in 2009, had a plus-2 rating and played a team-high 22 minutes and 10 seconds. Daoust, a physical education junior who has taken a sabbatical from her studies, had one shot on net and played 13:33 of ice time.
In women's snowboarding, Alexandra Duckworth, a McGill arts student on leave, who hails from Kingsburg, N.S., qualified for the halfpipe semifinal in the preliminary round held at Rosa Khutor Extreme Park. In the semi, however, she posted a score of 32.50, to finish in 11th place overall. Only the top six advanced to the final.
The other two McGillians competing at the Games are cross-country skiers Daria Gaiazova, with the Canadian squad and Jan Rossiter, competing for Ireland.
Galazova, a part-time commerce student, was born in Moscow but is now a Canadian citizen residing in Montreal. She qualified for Wednesday's quarter-final in the women's individual sprint in a time of 2:40.04 but failed to advance after finishing fifth in her heat (the top two advance) in 2:40.45 to end up 25th overall.
Rossiter, who was born in Cork (Ireland) but raised in Kingston, Ont., is scheduled to compete in the men's 15k Classic on Feb. 14 at 5 a.m. (Eastern). He graduated from McGill with a science degree in 2010.