Frédéric Bachand is leading the movement to use arbitration, not litigation, to settle commercial disputes.
By Jeff Roberts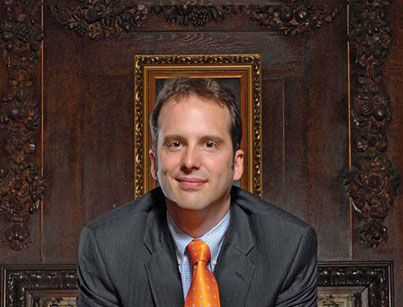 As court cases go, this was hardly a run-of-the-mill contract quarrel. The parties were major airline companies from France and Libya. Their contract stated that any dispute was to be resolved by arbitration in Montreal. Oh, and the French company was arguing the contract did not apply in light of UN sanctions placed on Libya after the 1988 terrorist bombing of Pan Am Flight 103 over Lockerbie, Scotland.
For newly minted lawyer Frédéric Bachand, the 1999 case was not only a baptism by fire in the world of international commercial arbitration, it was also an opportunity to participate first-hand in an emerging field of law—one in which he has since become a world authority.
"Everything related to globalization and alternative dispute resolution was not on the map when I finished my law degree," says Bachand, now an assistant professor in McGill's Faculty of Law. It was only while doing graduate work at Cambridge that the Quebec native "became aware of arbitration as a tool. It was an emerging field with lots of room to be creative as a lawyer and a scholar."
Based upon a model law created at the United Nations, international arbitration allows companies to resolve disputes through binding arbitration rather than litigation. There are immediate, practical benefits to the approach: by relying on a fair and uniform set of rules, companies reduce the time, cost and uncertainty related to litigation in foreign jurisdictions.
Bachand has written extensively on arbitration procedure and enforcement, and on the interplay between standardized rules and regional legal culture. He shares his expertise on arbitration as an editor and contributor to international journals, and he regularly presents on the issue in places as diverse as Russia, Vietnam and Germany.
While Bachand appreciates the practical aspects of arbitration, it is the theoretical dimensions of his research he finds especially exciting. In particular, he is intrigued by the melding of legal cultures that occurs when jurists attempt to graft standardized international rules onto local contexts.
In the same way that a one-size-fits-all garment may fit individual people very differently, so too do uniform rules of arbitration get contorted when applied in new jurisdictions. For instance, despite arbitration's promise of quick resolution, Bachand's France/Libya airline case lasted five years as a result of one party challenging the jurisdiction and basis for the arbitrator's decision. In doing so, lawyers and judges were forced to understand the role of Quebec civil law in a legal regime created at the international level and then implemented by Canadian legislation. (Incidentally, the courts ruled that the UN sanctions against Libya did not affect the binding character of the arbitration agreement.)
"In practice, it can be very hard for judges to implement. What do they do with foreign precedents and foreign sets of law? It's like asking them to speak a different language they don't know very well."
McGill has provided an ideal perch for Bachand to explore this ongoing legal métissage that is intrinsic to international arbitration. He researches within a faculty that is positioned, both intellectually and physically, at the crossroads of two languages and legal systems. This environment has created a community dedicated to exploring the evolving global dimensions of law. In particular, it has given rise to a trans-systemic approach which interprets legal problems across a variety of systems and jurisdictions.
"Arbitration is this fascinating legal space where you see pluralism and trans-systemic concepts in action, this legal space at the intersection between jurisdictions and UN resolutions," notes Bachand.
"We're particularly well placed at McGill to think of new arguments that scholars, judges and lawyers will need."
Bachand recently made another, decidedly unconventional, contribution to the world of law. At a recent downtown Montreal benefit for Avocats sans frontières, the soft-spoken professor could be found playing the drums in his band, which performs rock and heavy-metal covers.
A confessed Led Zeppelin devotee, Bachand still grooves with friends from his law-firm days. He notes that his only musical change has been the recent acquisition of a noise-reducing drum-pad—a move that just may have arisen as the result of some informal arbitration with his wife and the neighbours.
Frédéric Bachand's research is funded by the Canada Foundation for Innovation.
Next: Thinker Taylor