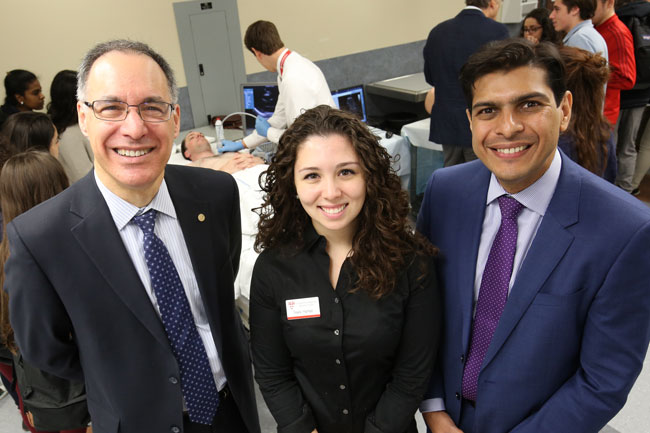 Transformative gift to enhance simulation-based training for health care providers, patients and community
By Cynthia Lee
McGill announced today a new name and vision that will position the Steinberg Centre for Simulation and Interactive Learning at the forefront of simulated training in the health sciences. Thanks to a $7.5 million gift from Arnold and Blema Steinberg, the Centre will be expanding its facilities, enhancing its technologies and broadening its scope of activities.
"We are grateful to Arnold and Blema Steinberg for their latest act of generosity," says Suzanne Fortier, Principal and Vice-Chancellor of McGill University. "Ten years ago, they created the first medical simulation facility of its kind in Canada. Now they are helping to change how McGill trains health professionals, and improve patient care, with another Canadian first: bringing together education, research and innovation, as well as community and patient engagement, under the same roof."
The future of medical education
"Medical care has evolved over the past 10 years to become more team-based and patient-focused, taking place across multiple settings," says Dr. Rajesh Aggarwal, Director of the Centre and Associate Professor of Surgery at McGill. "It is critical that we rethink how we train students to meet this reality." Working with colleagues from across health care disciplines, Dr. Aggarwal's objective is to transform the Centre into an "inspiring venue for education, research and innovation to better prepare our clinicians, provide better care for our patients and to better serve our communities."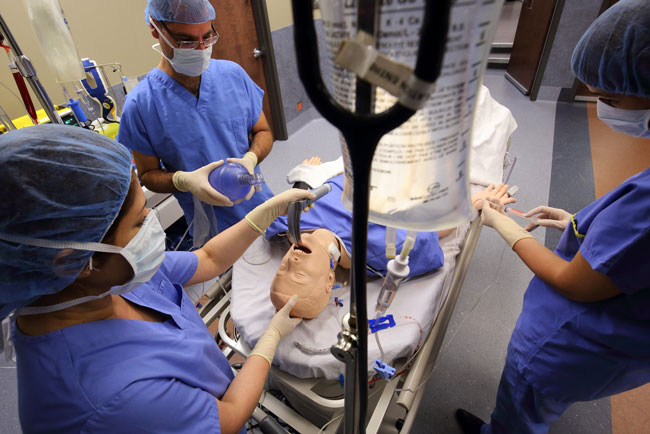 Since its inception in 2006 the Centre has been an important part of the training of health care students and practitioners, having hosted over 110,000 learner visits, more than 60,000 of which have occurred in the past four years. The Centre's academic team provides simulation-based training to students from McGill's schools of medicine, nursing, physiotherapy and occupational therapy, communication sciences and disorders, and dietetics and human nutrition, as well as to non-McGill health care professionals and to industry.
Using sophisticated simulation technology, life-like mannequins and professional actors as patients, among other tools, the Centre's users are able to practice a variety of skills from suturing to ultrasound to bedside manner to crisis resource management, clinical decision-making and interprofessional health care.
"The Centre is one of the most useful and enjoyable experiences of my medical school training," says Doulia Hamad, a second-year medical student at McGill and the Executive President of the McGill Medical Students' Society. "It provides us with a safe environment in which we can practice a wide variety of tasks that we need to master and helps prepare us for when we begin to see patients in clinic."
Transformative gift
The injection of new funding into the Centre will allow it to expand its operational space, currently at 18,500 square feet. Included in this expansion will be the creation of a simulated hospital ward that will enable the entire health care team to manage the clinical care of simulated patients in an environment that mirrors the complexities of a real-life hospital setting. A simulated apartment, where health care professionals will learn how to better manage patients in their own home environment, with a view to reducing the need for admission to hospital or enabling earlier discharge following surgery, will also be created.
These two new "training areas" are slated to open within the newly acquired space in the spring of 2016. At the same time, Dr. Aggarwal and his team are developing new programs to deliver high-quality simulation-based educational activities, to build a robust and internationally acclaimed research program and to create a platform for medical innovation within the Centre.
Increasing community engagement
Community and patient engagement are also a priority for the Centre, which will launch several new initiatives, including public education for high school and CEGEP students and opportunities for the public to use the Centre to educate themselves about conditions that may affect them or their loved ones.
"We look forward to opening our doors to the community through a range of public outreach and educational programs," says Dr. David Eidelman, Vice-Principal (Health Affairs) and Dean of the Faculty of Medicine. "The Steinberg Centre for Simulation and Interactive Learning is a perfect example of what makes good ideas great. We are very fortunate for the expertise and support that has inspired this bold, new direction."
"Over the last ten years, Blema and I have been incredibly proud to see how students, researchers and clinicians have embraced the Simulation Centre, and to witness as McGill has moved to the forefront of the vitally important field of medical education," said Mr. Steinberg. ''I consider it a privilege to be able to help the Centre take this exciting new step in its evolution, and to realize a vision that will have far-reaching benefits for health care professionals, patients and communities in Canada and around the world."
This most recent gift brings the Steinbergs' total giving to McGill to over $17 million.
Get more information about the Steinberg Centre for Simulation and Interactive Learning
Watch the video on the Steinberg Centre for Simulation and Interactive Learning by clicking on the thumbnail below.