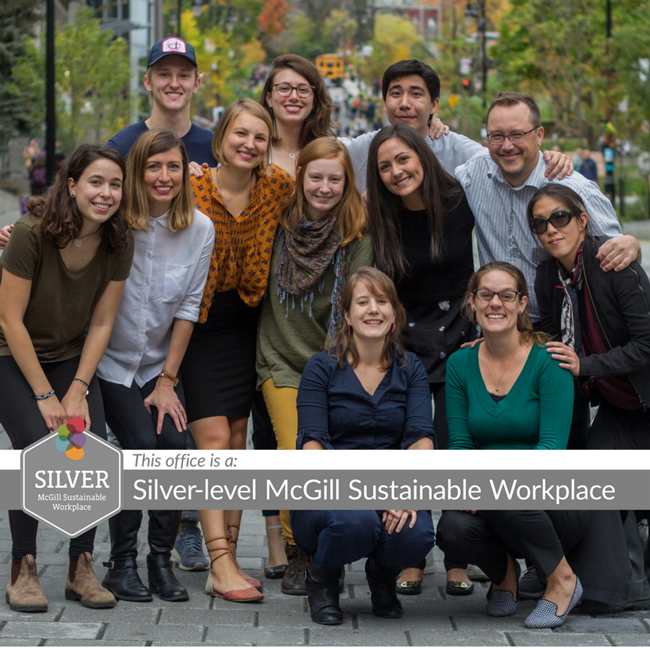 Sustainability Officer Shona Watt is on a mission. For over a year, Watt, who works in the McGill Office of Sustainability, has been developing a Sustainable Workplace Certification Program to challenge staff and students throughout the University to foster healthier, more environmentally-friendly, and connected workplaces through individual and collective practices.
The Sustainable Workplace Certification Program is one of many priority actions listed under the recently-released Vision 2020 Climate & Sustainability Action Plan, which outlines McGill's plan to mitigate its greenhouse gas emissions and boost its sustainability from 2017 to 2020.
"We've created a program that encourages and rewards teams for working together to make environmentally and socially responsible changes," says Watt.  "We started piloting in a few offices on campus in fall 2017, and were happy to see such enthusiasm for creating positive change in the workplace."
After gathering feedback from students and staff throughout the university with expertise in areas such as accessibility, energy management, procurement, mental healthy and equity, Watt created a framework for offices to evaluate and then improve their workplace's sustainability performance. The certification uses teamwork to achieve four increasingly rigorous levels: Bronze, Silver, Gold and Platinum. Each level includes approximately 15 actions and one bonus initiative.
Watt explains that while sustainability includes being environmentally responsible, it also includes social components, such as inclusivity, wellness and diversity.
"The certification starts at the Bronze level with some familiar actions like avoiding bottled water, and encouraging paperless communication and proper recycling. As the group progresses to the highest level of Platinum, the team's understanding of sustainability deepens," says Watt. "The program is set up to start the team with some easier actions to gain momentum to tackle more systemic and nuanced issues of social and environmental responsibility, such as mental health resources, equity training, procurement, and reducing air travel."
Jeff Tétreault, Staff and Student Engagement Intern at the Office of Sustainability, has been working with Watt to help create the structure and resources for the program to be launched. He explains that all participating McGill units will be able to connect with each other to share their experiences in order to create a network of sustainable workplaces around the university.
"The Sustainability Network group will be a monthly gathering of people involved or interested in joining the workplace certification. Attendees will have a chance to exchange on the successes and challenges that they faced and motivate each other to reach higher certification levels," explains Tétreault.
Learn more about the Sustainable Workplace Certification Program online.
All staff are welcome to attend the Sustainable Workplace Certification launch event on Monday, Jan. 22 from noon – 1:00 p.m. in MS-74. The event will go over the main goals of the program, the tools and resources offered, and guide attendees through the first steps of the certification. Email engagement.sustainability@mcgill.ca to confirm your attendance, as seats are limited.