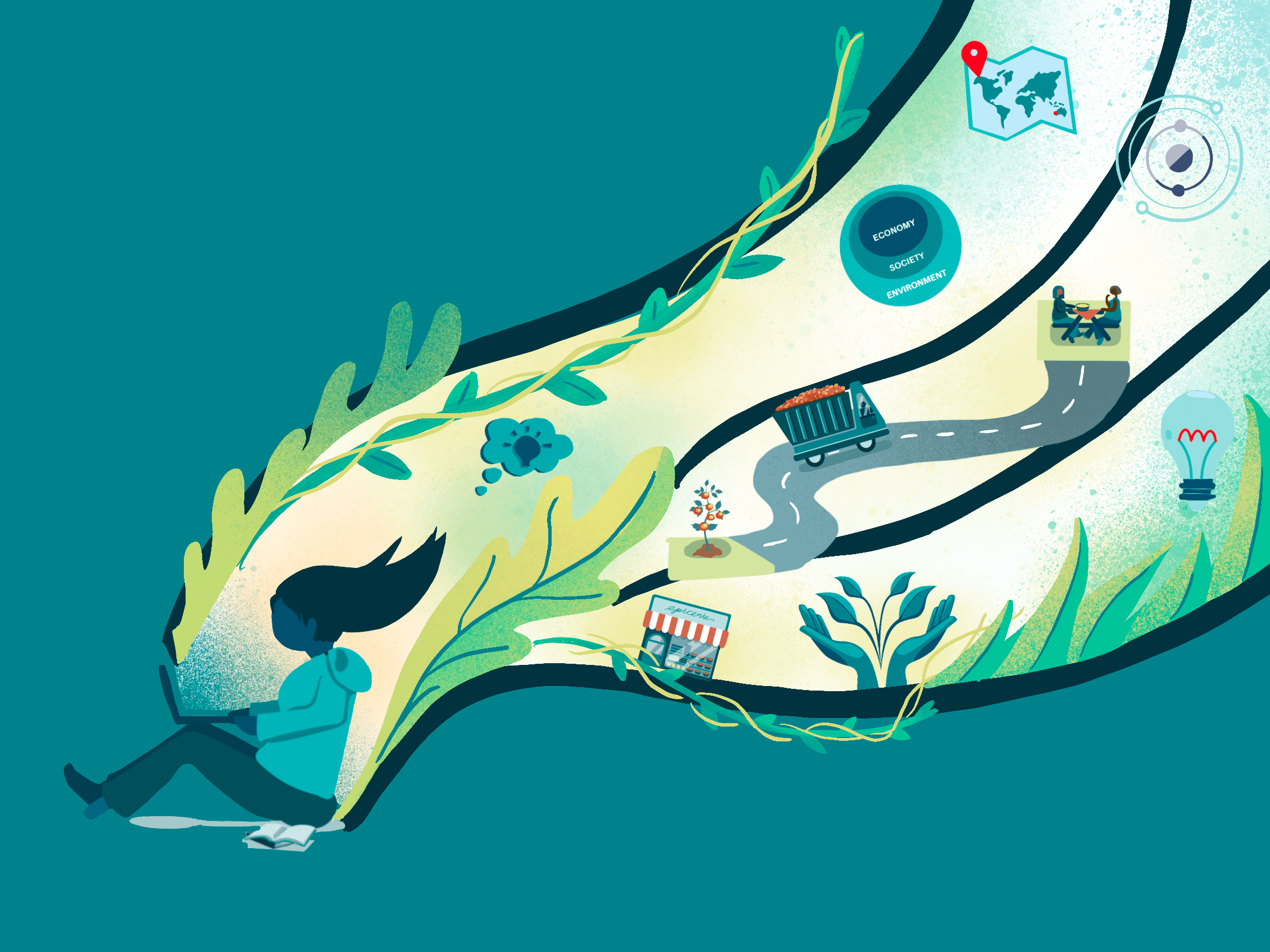 There's no doubt the McGill community has pushed for sustainable change on campus this academic year, from undergraduate students voting to continue financing the Sustainability Project Fund, to the University taking the Nature Positive Pledge. For students looking to build on this momentum and kickstart their own engagement with sustainability, McGill now offers the module Creating a Brighter Future: Sustainability at McGill.
The new self-paced module — available for free to all McGill students through myCourses — introduces the concept of sustainability and ways to get involved on campus. Among the driving forces for creating this module was a growing interest from students in learning opportunities outside of the classroom.
"A lot of programs at McGill have pretty strict required courses," explains Kerry Yang, the VP of University Affairs for the Students' Society of McGill University (SSMU). "Free online opportunities can really help make different types of education accessible for all students by breaking down the barriers and obstacles that prevent them from learning."
A tool to spark action
A major focus of the new module is highlighting resources, initiatives, and student groups at McGill related to sustainability, such as the Sustainability & Research Network, ECOLE, Campus Crops, MealCare McGill, and more.
"When talking about sustainability, I think it's crucial to give people a way to do something with the information they learn," says Maya Willard-Stepan, a McGill student and intern who helped develop the module. "Often these topics can get heavy, especially when talking about climate change. Giving people tools that empower them to act is how change is made."
The module takes about 45 minutes to complete, but it also includes dozens of external resources so students can dive deeper into the topics that interest them and explore the interdisciplinary nature of sustainability. Students who complete the module will receive recognition for it on their co-curricular record.
"We want students to be able to engage with sustainability on their own terms," explains Sustainability Officer Jessica Latus. "The module was designed to be a launch pad for students who are interested in learning more about sustainability. Our hope is that it will be a valuable first step toward taking action on campus and beyond."
A collaborative effort
The module is a flagship action of the University's Climate & Sustainability Strategy 2020-2025, which includes a commitment to increase sustainability education opportunities for the McGill community. While the Office of Sustainability worked closely with Teaching and Learning Services to develop the module, students were regularly invited to provide feedback through focus groups and participate in the design of the module as interns and volunteers.
"The module is meant to be a resource and tool for all McGill students, so we made sure students had a voice throughout the planning and design process," Latus says. Multiple faculty and staff focus groups were also held throughout the development of the module.
"Ultimately, our students are here to learn," reflects Christopher Buddle, Associate Provost of Teaching and Academic Programs. "Collaboration like this when creating educational resources is crucial to making the final product relevant, useful, and enriching to the student experience."
Creating a Brighter Future: Sustainability at McGill is available on MyCourses and can be found by searching the title in the "Discover" tab. Students who complete the module by February 26, 2023, will have a chance to win a $100 gift card.