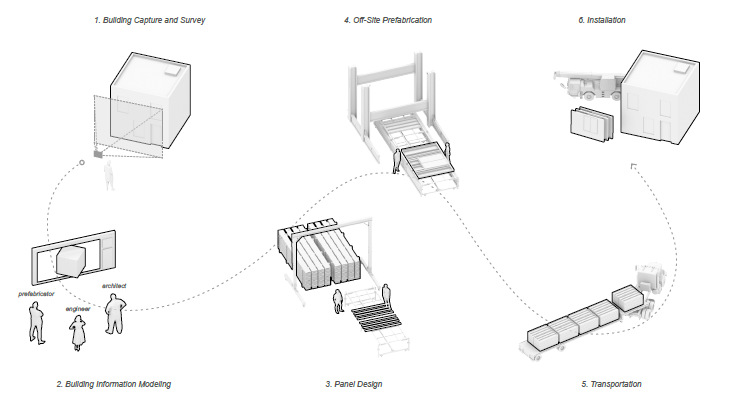 As the impact of climate change intensifies and accelerates, there is growing urgency to radically transform areas that can be substantially decarbonized. Buildings are among the largest emitters of greenhouse gases (GHG) however the vast majority of existing Canadian building stock was constructed with no energy code in place. Developing a systematic and scalable approach to retrofit existing buildings and communities to reduce their GHG emissions will help Canada achieve its carbon reduction targets.
To address this issue, McGill has announced the establishment of a Chair in Architecture, Energy, and Environment in the Peter Guo-hua Fu School of Architecture, supported by funding and in-kind contributions that total over C$6 million. The Chair will be held by Associate Professor Michael Jemtrud, and is funded by the NSERC Alliance program – the largest grant awarded in Quebec – with primary support from Hydro-Québec, and the Quebec Ministry of Energy and Natural Resources.
"More than an opportunity to urgently reduce emissions"
"Sustainability and climate change are defining issues of our times," said Benoit Boulet, Associate Vice-Principal, Research & Innovation. "The ambitious agenda of this chair demonstrates McGill's commitment to finding and implementing solutions to these problems."
"This chair is more than an opportunity to urgently reduce emissions," said Professor Michael Jemtrud. "It is a wholistic attempt to transform physical, social, and economic regimes for the benefit of all in adapting to the accelerating consequences of climate change by building more resilient communities."
"Stimulating the Quebec market and the development of this economic sector"
"This collaboration will make it possible to adapt the concept to the Quebec market and to stimulate the development of this economic sector which notably involves engineers, architects, real estate developers, contractors and equipment manufacturers," said Jean Matte, Senior Director of the Hydro-Québec Research Institute. "Hydro-Québec is committed to decarbonizing Quebec and supporting this initiative will not only create synergies within the industry but also provide the means to promote responsible energy use."
The new chair has organized a broad and diverse interdisciplinary team of researchers, public and private sector partners that will enable industry to feasibly implement effective energy efficiency measures in reducing existing building stock emissions. The partners are: Hydro Quebec, Ministère de l'Énergie et des Ressources naturelles, Natural Resources Canada, Société d'habitation du Québec, RG Solution, Minotair, 475 High Performance Building Supply, If Then Architecture, Carleton University, University of Toronto.
As operational energy efficiency in buildings continues to approach net-zero, embodied carbon and energy in the construction of a building becomes the primary concern. By not building anew – thus avoiding significant land use change GHG emissions and diverting enormous demolition material waste from landfills – renovation and retrofit strategies are an inherently sustainable approach.
Digital tool set part of scalable turnkey solution for mass retrofit
Building Energy Retrofits are known to be among the most effective means available to reduce operational emissions, but the sheer scale of the task has been a considerable obstacle. The program plans to leverage strengths in architecture, engineering, computer science, planning, and management to develop a digital tool set – the ReCONstruct platform – and to implement the research and development efforts in a series of pilot projects that will inform the research. The research will become the basis for a scalable turn-key solution that reconfigures conventional procurement, finance, and legislative structures as well as design, manufacture, and construction workflows for mass retrofitting Canada's existing building stock.
In addition to being named to the new Chair, Professor Jemtrud is a member of the newly formed DeCarbonizing ARchitecture and Buildings Research Group along with McGill architecture colleagues Salmaan Craig, Naomi Keena, Philip Tidwell, and Nik Luka.  Additionally, he is co-PI with Prof. Craig on the $19.2 million CFI-funded Building Architecture Research Node research facility currently being designed and planned to be operational in the first half of 2024.