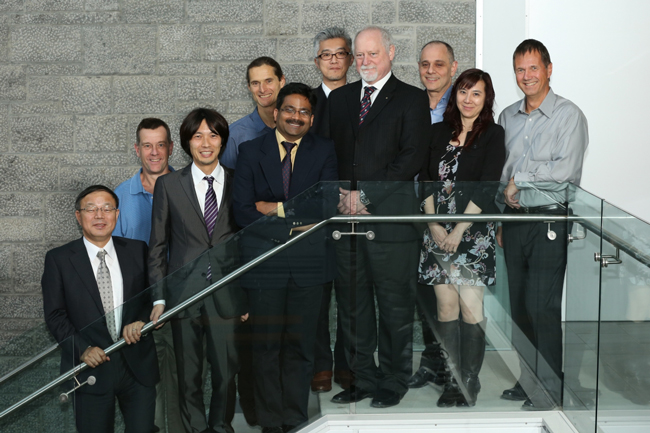 Industry and academia team up for the benefit of people suffering from ALS
A unique industry-academia partnership will increase the rate at which promising drug compounds can be tested as potential treatments for amyotrophic lateral sclerosis (ALS), a disease with no known cure that affects 200,000 people worldwide.
The partnership between The Montreal Neurological Institute and Hospital (MNI) and Takeda Pharmaceutical Company Limited (Takeda) will allow compounds developed by Takeda scientists to be tested on cell lines produced at the MNI.
Existing infrastructure at the MNI provides great potential for developing effective ALS treatments. In December 2016, The Neuro created the Tanenbaum Open Science Institute (TOSI), a bold initiative to facilitate the sharing of neuroscience findings worldwide to accelerate the discovery of new therapeutics for neurological diseases. At the heart of TOSI are two important platforms, The Open Science Clinical Biologic Imaging and Genetic Repository (C-BIGR) and the Open Drug Discovery Platform. The C-BIGR, collects, stores and shares samples that patients have voluntarily donated for the aid of medical research. The MNI has the largest ALS program in eastern Canada, following over 300 patients and adding over a hundred new ones each year. Dr. Guy Rouleau's genetics research program has built up a comprehensive bank of genomic DNA samples from over 200 different families with familial ALS and over 1,000 cases of sporadic ALS.
Researchers at the MNI's Open Drug Discovery Platform use patient samples to develop human-induced pluripotent stem cells (hiPSCs) that can then be genetically reprogrammed to become any cell in the human body, the most relevant in this case being motor neurons for ALS. Researchers will work with the Structural Genomics Consortium (SGC) and the Centre for Drug Research and Development (CDRD) to develop clinical assays from these cells that can be used to test potential drug therapies.
Assays developed from patient samples have greater potential for success than traditional mouse models. Because of the differences in fundamental biology between humans and mice, it is often difficult to translate findings in mouse models to humans suffering from ALS.
As part of the MNI's Open Science Policy, results of this unique collaboration will be made available to all scientists around the world, to better increase the chances an assay will lead to drug development.
"ALS is a terrible disease, and after decades of research there remains no effective treatment for the disease, much less a cure," says Dr. Guy Rouleau, geneticist and Director of the MNI. "By partnering with Takeda, and hopefully others, we will increase the volume and quality of clinical assays, maximizing the impact of our collective expertise."
"We are thrilled to be partnering with an internationally recognized and renowned Canadian institution like the MNI to accelerate much-needed research in this disease area," says Chatrick Paul, General Manager, Takeda Canada Inc. "This investment is part of Takeda's overall global commitment to the discovery of new therapies and look forward to what this research will bring to help patients in the future."