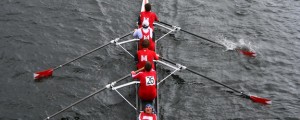 By Earl Zukerman, McGill Athletics & Recreation
McGill's men's crew stunned the rowing world with a gold medal performance in the elite men's coxed four at the 45th annual Head of the Charles regatta last weekend.
It marked McGill's first gold medal at that high-profile event since 1995, when the Redmen won their fourth gold in as many years. The Head of the Charles, which is held on the Charles River, attracts a field of more than 8,500 rowers annually and is billed as the world's largest regatta.
McGill finished first of 55 boats entered in the Club Fours category, completing the three-mile course in 17 minutes, 19.146 seconds. Notre Dame was second (17:23.353), followed by the Riverside Boat Club in third (17.23.687).
"It is truly an incredible achievement as this is the most prestigious rowing regatta in North America, with thousands of participants from all over the world," said McGill head coach Philip Hedrei. "Such a result only occurs once in a generation."
McGill's winning crew was composed of Eric Baumann, an agricultural science junior from Delta, Ont., Adam Hart, a second-year medical student from Montreal, Travis O'Farrell, a chemical engineering senior from Unionville, Ont., and John Willcock, an economics junior from Vancouver, B.C. The coxswain was Jeremy Van Slyke, a third-year music student from Fredericton, N.B.
"Only two of them — Hart and O'Farrell — were returnees from a varsity boat last year," said Hedrei. "And Hart missed most of his summer training to recover from an injury. Willcock rowed on a junior varsity boat last year and Baumann is essentialy a novice, as he learned to row last April."
This competition is considered to be a coxswain's race, given the complex course layout. Races are won based on the coxie's performance in guiding the boat.
"Crews recruit their best possible coxie for this event because a tighter turn or better course selection makes a huge difference," Hedrei explained. "VanSlyke, our coxie, was a novice last year and is currenly in development. Not only was this his first season in a varsity boat but it was also his first time on this course. To win here, at this level of competion, was absolutely amazing."
The boat used by the winning crew, christened the "Red Wave", was a $22,000 shell that was purchased in 2006 and funded entirely by financial donations from recent alumni, many of whom went on to coach with the team. Among the donors was Hedrei, the family of last year's head coach Andrew Howard, plus James Reid, Mark Wismer, John Muir, Alain Goubau and Dallas Smith, a former coxie who previously won gold for McGill on the Charles river in the 1990s.
Three other McGill boats also competed in the Head of the Charles on Sunday. The men's lightweight eight finished eighth in a field of of 30 and the women's heavyweight eight placed 17th of 35 entries. Both boats qualified to return for next year's regatta. The women's lightweight eight finished 10th of 14 competitors.
Up next for the McGill crew are the OUA championships in St. Catharines, Ont., Oct. 23-24, followed by the Canadian university rowing championships at the Olympic rowing basin in Montreal, Oct. 30-31.