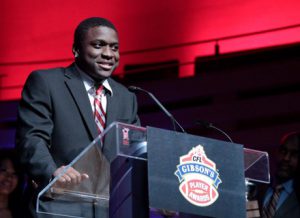 By Earl Zukerman
McGill wide receiver Shaquille Johnson was named rookie of the year in CIS football during the Gibson's Finest CFL Player Awards gala at Koerner Hall, last night. He becomes the second member of the Redmen to win the Peter Gorman Trophy, a feat previously accomplished by Michael Soles (1986), who went on to a long CFL career with Edmonton and Montreal.
The 19-year-old management freshman from Brampton, Ont., is a 5-foot-11, 185-pound wide-out who led the RSEQ league in both receptions (61) and receiving yardage (792), achieving the fourth-highest single-season catch total in Quebec university history. His 61 receptions are a new CIS record for a rookie, eclipsing the previous mark of 57, set in 2002 by Western's Andy Fantuz, a former Hec Crighton Trophy recipient and current CFL star.
"As a person, Shaq is quiet, modest, and humble," said McGill head coach Clint Uttley. "As a football player, he has a natural feel for the game. He's extremely athletic and smooth. He's not a sprinter, but more like a glider. His biggest asset is an ability to adjust to the ball when it is in the air and simply go up and get it."
Johnson, who also snared five touchdown receptions in conference play, was voted to the RSEQ all-star team and was the only freshman to merit all-Canadian status (second team). He ranked third in the nation in receptions, fourth in yards and ninth in yards per game (88.0). In the final week of the regular season, he tied a single-game league record with 18 receptions against Sherbrooke, equaling the mark held by former McGill star Charles-Antoine Sinotte (2007) and falling one short of the CIS national record (Andre Talbot, Laurier, 2000).
Other CIS award winners announced were McMaster quarterback Kyle Quinlan, who won the Hec Crighton Trophy as CIS player of the year. Laval linebacker Frédéric Plesius, who captured the Presidents' Trophy as defensive player of the year; McMaster defensive end Ben D'Aguilar, who merited the J.P. Metras Trophy as most outstanding down lineman.
The CIS recipients were honoured alongside the CFL best for the second straight year as part of the 48th Vanier Cup and 100th Grey Cup festivities.
The Vanier Cup final between Laval and McMaster is set for tonight at 7:30 p.m. at Rogers Centre, live on TSN and RDS. Pre-game coverage on TSN starts at 7 p.m.