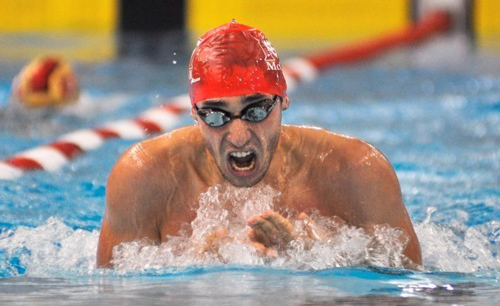 By Earl Zukerman
McGill's Pierre-Alexandre Renaud of Laval, Que., won two gold medals and a pair of silvers to go along with his second swimmer-of-the-meet award of the season at the third Coupe de Quebec swim competition this season, held Saturday at CEPSUM pool on the campus of Universite de Montreal.
The Martlets finished second of five teams overall, while the Redmen were third.
Renaud, a 22-year-old economics senior, won the 400-metre freestyle in three minutes, 58.36 seconds, which was more than four seconds faster than his winning time in the season-opening meet at Trois-Rivieres last month. He also guided the 4x50m freestyle relay to a first-place finish in 1:35.15, along with teammates Marc-Andre Benoit, Michael Luck and Patrick Mazurek.
Renaud, who has now struck gold six times in three league meets, earned 603 points on the FINA scale to edge out Christopher Bezeau (597) from the Carabins for swimmer-of-the-meet honours.
On the women's side, Sandrine Mainville of the Carabins was the top swimmer and accumulated 697.5 points. McGill's top scorers were Simone Cseplo (499.5), a psychology freshman from Toronto and Valerie De Broux (441), a nursing junior from Beaconsfield, Que.
Five more McGill swimmers qualified for the CIS championships next spring, bringing the team's total to eight qualifiers. The new additions include De Broux and Jeong-Wan Hong of North Vancouver, B.C., in the 200 breaststroke.
Others who qualified were Rayven Snodgrass of Calgary and Montrealer Christine Aglot in the 50 backstroke and the aforementioned Benoit, a third-year accounting major from Ste. Hyacinthe, Que., in the 50 butterfly.
They join Renaud, who previously qualified along with Cseplo and Katie Caldwell.
"Overall I was pleased with our team result," said McGill head coach Peter Carpenter. "I am very much looking forward to having our swimmers shaved and rested in our meets over the next two weeks. In the past two years we have had only seven qualifiers prior to our 'shave and taper' meets, so to have one more is a sign of progress, albeit a small one. These next two weeks are crucial for our team performance over the course of the season, and with very few exceptions, the swimmers seem to be where they need to be right now."
McGill will compete next at a Tri-meet with Laval and the Montreal Carabins at the Côte St-Luc Aquatic Centre, Nov. 18-19. Friday's schedule begins at 7 p.m., while Saturday's competition is slated for a 1:45 pm start.