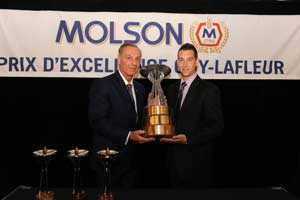 By Earl Zukerman
The Montreal Canadiens and Molson's Brewery recently announced that Marc-André Dorion, a defenceman with the McGill University Redmen, has won the Guy Lafleur trophy as the Quebec university player who best combines hockey with academic success. The award is accompanied by a $6,000 bursary over three years.
Dorion, a 22-year-old native of St. Hubert, Que., becomes the 13th McGill player in 25 years to win the award – which is accompanied by a $6,000 bursary over three years – since it was inaugurated in 1985. Among the former Redmen who have won the honour was Guy Boucher, who recently coached Drummondville to the QMJHL championship, and Mathieu Darche, who skated for Portland in the American Hockey league this season after playing in the NHL last year with the Tampa Bay Lightning.
Dorion was recruited out of the Quebec Major Junior Hockey League, where he played five seasons for Acadie-Bathurst (2003-2006) and Baie Comeau (2006-2008). He was a QMJHL all-star and earned a tryout to the Dallas Stars rookie camp before joining the Redmen last fall.
On the ice, the 5-foot-11, 184-pound rearguard scored five goals and 28 points in 39 games overall with McGill last year. In regular season play, he merited OUA All-Rookie team honours and posted a 1-17-18 record in 27 contests, the third-highest scoring defenceman among rookies in the 18-team OUA hockey league.
In the classroom, Dorion achieved Academic All-Canadian honours in addition to making the Principal's Student-athlete Honour Roll. The physical & health education freshman achieved a cumulative 3.75 grade-point average out of a possible 4.0, the equivalent of a 93.8 per cent academic average. He earned seven A grades to go along with a pair of Bs.
"Marc-André is a defenceman with impressive offensive skills who also excels defensively, "said Martin Raymond, head coach of the Redmen. "He had a plus-minus rating of plus-22 this past season. He possesses a good skating stride, sees the play well and has an above-average ability to anticipate a play. He also has a good attitude and is an individual who is much appreciated by his teammates. He has become a solid member of the Redmen family and we are very proud of him."
UNIVERSITY RECIPIENTS OF THE GUY LAFLEUR TROPHY:
1985    Paul Gagné, UQAC
1986    Mark Reade, McGill
1987    Alain Bisson, UQTR
1988    Tim Iannone, McGill
1989    Richard Laplante, Concordia
1990    Benoit Gosselin, UQTR
1991    Robert Desjardins, Concordia
1992    Patrick Jeanson, McGill
1993    Guy Boucher, McGill
1994    Patrick Genest, UQTR
1995    (ex-æquo) Todd Marcellus, McGill & Alain Coté, UQTR
1996    Pierre Gendron, McGill
1997    Louis-Simon Ferland, McGill
1998    Vincent Labossière, Concordia
1999    Mathieu Darche, McGill
2000    Luc Bélanger, UQTR
2001    Paul Theriault, McGill
2002    Philippe Ozga, Concordia
2003    (ex-æquo) Bruno Lemire, McGill &  Pat Theriault, Con
2004    Fredéric Faucher, Concordia
2005    Mathieu Poitras, McGill
2006    Karl Gagné, Concordia
2007    Jean-Michel Filiatrault, McGill
2008    Nicolas Désilets, UQTR
2009    Marc-André Dorion, McGill