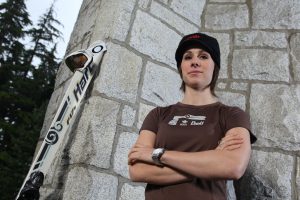 By Earl Zukerman
Freestyle skier Jennifer Heil, a McGill student from Spruce Grove, Alta., won a silver medal at the Vancouver Winter Olympics, Saturday. It was Canada's first medal of the Games.
The 26-year-old management major, who also captured Canada's first medal, a gold,  at the 2006 Turin Games, earned 25.69 points to finish second on the podium in the women's freestyle moguls, behind American Hannah Kearney, who merited 26.63 points. Kearney is the daughter of two McGill grads; Jill Gass (BEd.'79) and Tom Kearney (MA, '79).
Shannon Bahrke, also an American, was third on the podium with a score of 25.43.
Heil's silver was the 25th Olympic medal – Summer and Winter Games combined – won by a McGill student (or graduate) since the Olympics began. McGill has produced 112 Olympians who have won a combined total of five gold medals, nine silvers and 11 bronzes.
Heil is one of five current or former McGill students competing at the Vancouver Games. Aside from Heil, the only other current McGill student competing in the Games is women's hockey goaltender Charline Labonté, a physical education junior from Boisbriand, Que. Both are on a leave of absence from their studies.
Among the graduates participating as athletes are defenceman Catherine Ward (BCom'09) from Town of Mt. Royal, Que., and goaltender Kim St-Pierre (BEd'05) of Chateauguay, Que., both with the Canadian women's hockey team, plus speedskater Tyson Heung (BEd'05), a Montreal teacher originally from Brampton, Ont., who is competing for Germany.
Eight other McGill graduates are involved with the current Games in coaching or administrative roles.