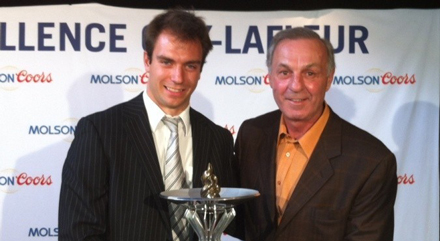 By Earl Zukerman
The Montreal Canadiens and Molson's-Coors brewery announced Thursday that Patrick Delisle-Houde, a forward with the McGill Redmen, has won the Guy Lafleur Award as the Quebec university player who best combines hockey excellence with academic success and citizenship.
The 21-year-old native of Quebec City becomes the sixteenth McGill player in 29 years to win the award – which is accompanied by a $6,000 bursary over three years – since it was inaugurated in 1985. Among the former Redmen who previously won the honour is former Tampa Bay Lightning head coach Guy Boucher and ex-Montreal Canadiens left-winger Mathieu Darche.
Delisle-Houde was recruited out of the Quebec Major Junior Hockey League, where he played for Rimouski and Moncton. In his first year of CIS play with the Redmen, the 6-foot-1, 193-pound centre scored a team-leading 31 points, including eight goals, in 37 games overall. During regular season play, he led the team with 24 points, including 18 assists in 26 contests.
Among the league's top rookies, he ranked fourth in assists and eighth in points. He capped off the season by earning a berth on the league's OUA all-rookie team and receiving the Friends of McGill Hockey Trophy, awarded annually to the team's top freshman.
In the classroom, Delisle-Houde completed nine courses and achieved 24 credits over the school year, achieving a grade-point average of 3.52 (the equivalent of 88 per cent) as a physical education freshman. He merited CIS Academic All-Canadian honours and qualified for the Principal's Student-athlete Honour Roll. In the community, he volunteered for hospital visits at the Rimouski Regional Hospital in 2011 and made numerous school visits in 2012 for Moncton's "Reading is Wild" program, which encourage reading among youths.
"Pat is an excellent two-way forward for our team," says Kelly Nobes, head coach of the Redmen. "He is a very responsible defensive player and was a leader on our penalty-killing unit with outstanding shot-blocking skills. He also contributed offensively, leading our team in scoring, which is unusual for a first-year player. He's strong on the puck and scores his goals by getting to the front of the net and banging in rebounds or deflecting pucks. Off the ice he is a high-quality person, a strong leader and a great student."