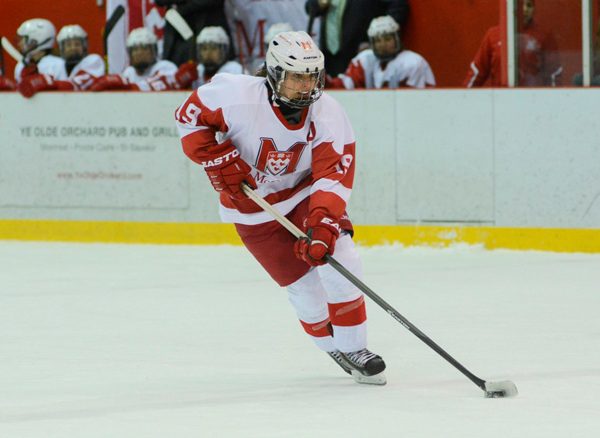 By Earl Zukerman & Michel Belanger
FREDERICTON – Katia Clément-Heydra, a fourth-year centre  for the McGill Martlets, was named CIS player of the year in women's hockey, Wednesday night.
The native of St. Bruno de Montarville, Que., keeps the Brodrick Trophy in the Martlets family for the third straight campaign as former teammates Mélodie Daoust, who helped Canada win gold at the Sochi Olympics, and Ann-Sophie Bettez had claimed MVP honours in 2013 and 2012, respectively.
Other award winners announced at the All-Canadian Banquet held at the Fredericton Inn were Saskatchewan forward Kaitlin Willoughby, who was named the nation's top freshman; Toronto goaltender Nicole Kesteris, who received the Marion Hilliard Award celebrating excellence in athletics, academics and community involvement; and Saskatchewan head coach Steve Kook, who was honoured by his peers for the second time in five years.
The Scotiabank CIS championship, hosted by St. Thomas University, gets under way on Thursday at the Grant Harvey Centre and culminates on Sunday at 6:30 p.m. Atlantic Time with the gold-medal final, live on Sportsnet 360. All nine games from the six-team competition will also be webcast live on www.CIS-SIC.tv.
Clément-Heydra is the fourth McGill player overall to merit the Brodrick Trophy. Before the Clément-Hydra-Daoust-Bettez trifecta, goaltender Kim St-Pierre, a three-time Olympic gold medallist, had captured the award in 2002-03.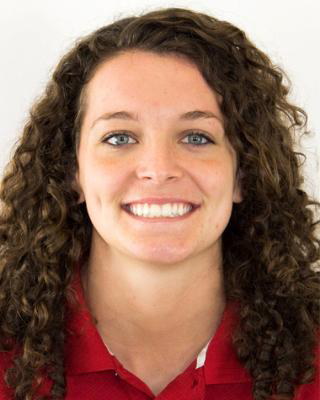 In her fourth season with the Martlets, Clément-Heydra claimed the RSEQ conference scoring title and ranked second in the nation with 40 points, including 13 goals, in only 20 games, helping McGill take first place in the Quebec standings with a sparkling 18-2 record. The 5-foot-7 alternate captain either scored or assisted on 49.4 per cent of the team's 81 markers in league play. Of her 13 goals, four were game-winners, five came on the power play and two were shorthanded.
Thanks to her stellar play, the 24-year-old earned a spot on the first all-Canadian unit, improving from a second-team nod a year ago. She also enjoyed international success over the past few months as she helped Canada win gold at the FISU Winter Universiade in Italy last December, finishing second in tournament scoring with a whopping 18 points (5-13-18) in only seven contests.
"Katia plays with such confidence and has improved so much over her career in every aspect of her game, especially so since last year," said head coach Peter Smith, in his 13th season as bench boss at McGill. "One of the biggest factors is how hard she worked last summer. She came into training camp so fit this season that the rest of her game just fell into place, from the drop of the puck in training camp, right through to her last game. She really embraced her leadership role and brought a great on-ice performance every night. She was very dynamic out there, real sharp on both sides of the puck, played exceptionally hard this season and was justly rewarded."
The other finalists for the Brodrick Trophy were forwards Alex Normore of St. Francis Xavier, Jenny MacKnight of Windsor and Tatiana Rafter of UBC.
To read a preview of the tournament, go here.