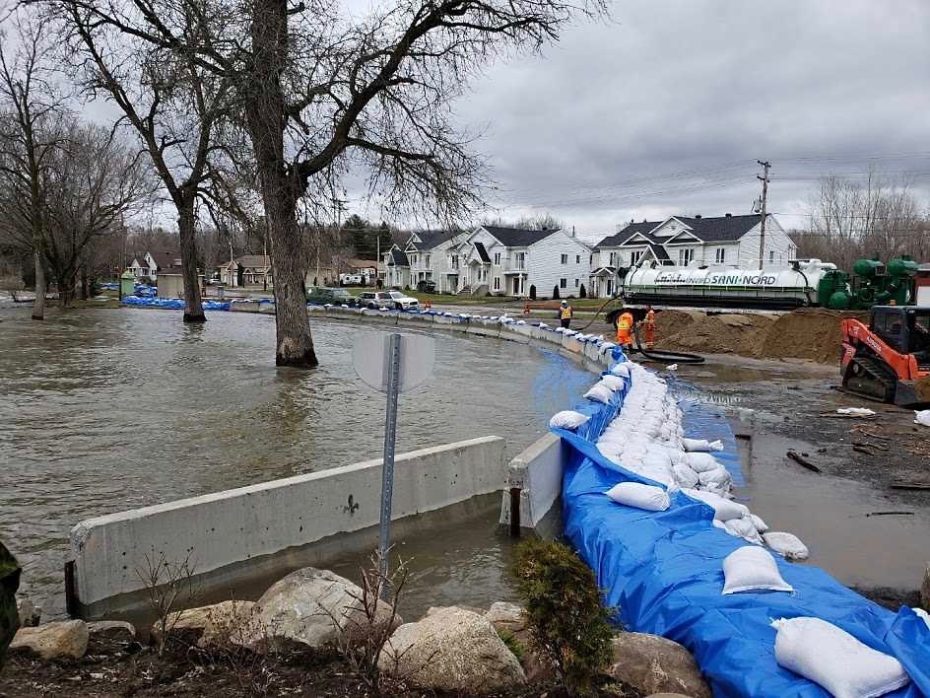 While April showers are sometimes praised for bringing May flowers, this year in Quebec people have been cursing even the slightest drizzle. That's because the relentless rains, combined with a larger-than-normal snow melt, has devastated many shoreline communities, and even those thought to be safely inland.
As of April 30, more than 6,600 homes in Quebec have been flooded, with another 3,500 cut off from their communities by floodwaters. Reports say more than 10,000 people have been forced from their residences, compared to 4,000 during the floods of 2017.
Around the province, flooding has caused numerous and forced the closure of many roads and bridges, notably the Galipeault, cutting access off island via Highway 20.
The situation reached critical levels this past weekend when some 6,000 people were forced to flee their homes in Ste-Marthe-sur-le-Lac when a natural dike northwest of the town breached.
In response to the dire situation, residents, volunteers, emergency responders and community leaders have been putting in long, hard hours in a desperate effort to stem the tide.
While many McGillians have answered the call to stack sandbags in water-logged areas, two members of the University community are helping out in an official capacity.
Coordinating relief efforts
Daniel Doran, Associate Director or McGill's Administrative Excellence Centre, and Rudy Cabrera, who graduated from Mechanical Engineering in 2014, are reservists in the Armed Forces. Both men have been deployed to Laval as part of the Engineer Support and Coordination Centre (ESCC) of the Force Opérationelle Montreal (FO MTL). Doran is serving as the Officer in Command of the ESCC and Cabrera is Operations Officer.
Based out of the 4th Battalion – Royal 22nd Regiment in Laval, Doran and Cabrera have been deployed to areas in need such as Ste-Marthe-sur-Lac, Pierrefond, Argenteuil and at-risk communities in Laval.
Chief among their duties, Doran and Cabrera are helping coordinate the building of dikes for different communities in high-risk flood zones in order to protect key infrastructure.
"Over the past two days, the situation has stabilized. Water levels have for the most part stopped rising," says Doran. "We continue to build dikes but the combat engineers are now focusing more on conducting inspections on existing dikes to ensure they are not leaking."
A long-time officer in the Canadian Armed Forces, Doran has served on the NATO mission in Afghanistan as well as UN missions in both Sudan and the Democratic Republic of the Congo. In 2010, he transferred from the Regular Force to the Army Reserves, where he serves part-time as a Deputy Commanding Officer of 34 Combat Engineer Regiment. This is not Doran's first experience with flood relief. In 2017, he was deployed to the floods in Pierrefonds in Operation LENTUS.
"The residents are going through a great deal – many have lost their homes," says Doran. "They remain largely very resilient and have been out in great numbers to volunteer to build dikes and other structures to protect against further water damage to their communities.
Deployed on April 21, Doran will return to his full-time job with the Faculty of Medicine on May 4. "The Faculty was very supportive – Dean Eidelman approved on very short notice my two-week absence but I need to get back. Others will take over where I left off and continue to support our communities until the emergency is over."
[Editor's Note: McGill was honoured recently for its support of employees who serve in the Canadian Army Reserve]
Big-picture vision with an eye for detail
For his part, Cabrera must be able to see the big picture of the overall relief efforts in Laval and environs, as well as having intimate knowledge of all the small moving parts. "My main role consists of coordinating our combat engineer resources to support the FO MTL as well as neighbouring forces (Trois-Rivières, Quebec, and Gatineau)," says Cabrera. "Our resources consist of human (reconnaissance experts, technical advisors and heavy equipment operators) and material resources."
Like Doran, Cabrera praises his employer for making it possible to take part in the mission. "My manager at Bombardier Aéronautique was generous enough to allow me some time off to contribute this operation," he says. "I'm grateful to be part of such an operation despite the long hours and high pressure. Serving our own is really my raison d'être for being in the military."