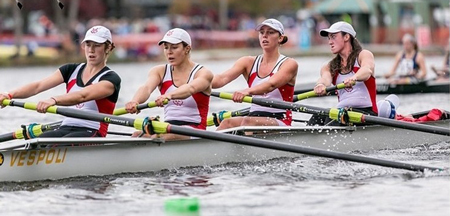 By Earl Zukerman and Ryne Bondy
A rowing crew from McGill finished second of 33 boats in the women's collegiate fours at the 49th annual Head of the Charles Regatta in Boston, Sunday. It was the best finish ever for a McGill women's boat in the history of this regatta, bettering consecutive third-place finishes in 1988, 1989 and 1990.
The McGill crew included Kelly Donivan, an English freshman from St. Lazare, Que., who was in the bow seat. She was followed by Esther Jamieson, a cognitive science freshman from Aurora, Ont., senior Kalyna Franko, a master's student in psychology who hails from Toronto and Luce Bourbeau, a political science junior from Havre-aux-Maison, Que., who sat in the stroke seat. The coxswain was Kathryn Jones, a third-year nursing major from Toronto.
It was the lone Canadian boat in that category and completed the 3.2 mile course in a time of 18 minutes, 19.71 seconds. A team from Barry University won the race in 18:14.89. Georgia Tech finished a distant third in 18:40.45.
The competition, held on the banks of the Charles River, bills itself as the world's largest annual two-day rowing event, attracting a field of more than 9,000 rowers and over 300,000 spectators every year.
This regatta is considered to be a coxie's race, given the complex curvy course layout. Races are won based on the coxie's performance in guiding the boat along a course that stretches from the start at Boston University's DeWolfe Boathouse near the Charles River Basin to the finish just after the Eliot Bridge and before Northeastern University's Henderson Boathouse.
The number of medals awarded depends upon how many boats are entered in a race. In a field of 40 or more, the winning crew is awarded gold, while the next four finishers receive subsidiary medals. There are no silver or bronze medals offered.
Last year, a McGill women's heavyweight coxed four finished fourth of 46 entries in the club fours category..
The last top five finish by a McGill men's boat was at the 2010 race when the lightweight four came in third of 19 entries.
McGill has claimed five gold medals in the history of this competition – all on the men's side – winning in the coxed four in 2009, which marked their first gold medal since 1995, when they captured their fourth gold in as many years in the championship fours division.
Up next for the McGill crew is the OUA championships in St. Catharines, Ont., Oct. 25-26, followed by the Canadian university rowing championships, to be hosted by McGill at the Olympic rowing basin, Nov. 2-4.