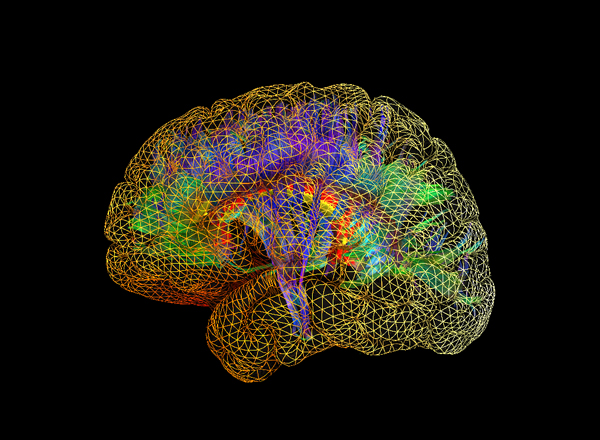 Canada First Research Excellence Fund to support global hub for brain research
By McGill Reporter Staff
McGill has been successful in the national competition for a massive amount of research funding under the federal government's Canada First Research Excellence Fund (CFREF), which will provide the University with an $84-million grant over seven years to support an ambitious effort in neuroscience to advance understanding of the human brain and ease the burden of neurological and mental-health disorders.
McGill's program, called Healthy Brains for Healthy Lives, will build on the University's leading position and its partnerships in neuroscience to make McGill a global hub for brain research – one of the major frontiers for 21st-century medicine.
The program will also receive significant support from other partners in academia and industry. McGill will also deepen its existing partnership in neuroscience research with Western University, which is receiving an additional $66 million from CFREF. Taken together, the McGill and Western projects represent a total of $150 million in new federal investment in brain research in Canada.
"We are immensely grateful to the federal government for this vital support," said Principal and Vice-Chancellor Suzanne Fortier. "Our capacity for breakthroughs in treatment of brain disorders and our ability to improve lives will be heightened significantly by this important new funding."
Neurological disorders and mental illness take a huge toll – in both human suffering and economic costs. An estimated 3.6 million Canadians are affected by neurological conditions, and the number of people diagnosed with disorders such as Alzheimer's and Parkinson's diseases is expected to increase significantly as the population ages in coming decades. The economic burden of neurological and psychiatric disorders combined amounts to $22.7 billion a year in Canada, according to Brain Canada. And the World Health Organization forecasts neurological and psychiatric diseases will surpass cancer as the second-leading cause of death in Canada by 2040.
Healthy Brains for Healthy Lives (HBHL) is designed to transform many brain disorders from terminal or life-long afflictions to treatable, or even curable, conditions. A major focus of the program will be to deepen understanding of individual variations in brain health and susceptibility to illness.
"To treat complex conditions such as mental health more effectively, we need to better understand how genes, neural circuitry and environmental factors interact to produce different individual outcomes," said McGill neuroscientist Alan Evans, scientific director of the new program. "The HBHL project will enable us to identify different subgroups of patients, and point the way to new drug therapies as well as educational and treatment strategies."
Until now, treatments have had to be developed using a standardized human brain. In reality, every person's brain differs, and response to a treatment or drug varies widely. The new approach of HBHL will be to deploy neuroscience and neuroinformatics to address the individual brain – in all its complexity and variability.
HBHL will transform how we see and treat the brain, bringing new levels of insight to how we function in disease, in health, in our nuanced interactions with our environments, and as we change over our lifetimes. We will focus on some of the most complex and costly conditions facing our society – autism, chronic pain, suicide and diseases, such as Alzheimer's, multiple sclerosis, Parkinson's and ALS – where our big-data approach and integrated expertise will provide new tools to understand and treat patients in a personalized way.
Building on our interdisciplinary strengths, HBHL's comprehensive approach will allow imaging engineers and computer scientists to develop better technologies to map the physical brain; provide clinicians with evidence-based tools for diagnosis and treatment; and inform social scientists and decision-makers in their development and implementation of policies.
McGill Neuroscience is a massive research operation. McGill is home to 250 neuroscientists, with more than 350 graduate students and 250 postdoctoral fellows, involved in research programs across McGill and its affiliated research hospitals including The Montreal Neurological Institute and Hospital, the Douglas Mental Health University Research Institute, the McGill University Health Centre Research Institute, the Lady Davis Research Institute at the Montreal's Jewish General Hospital. McGill's international partners in this field include the University of Oxford, Imperial College London, and the Swiss Neuroscience Center of Zurich, among others.
"McGill's commitments to neurosciences over several decades have built a critical mass of researchers, skilful and dedicated support staff, and exceptional facilities," Prof. Fortier said. "Through the Healthy Brains for Healthy Lives program, these teams and our partners will work together to help meet one of the great challenges of the 21st century: understanding, preventing and treating brain disease."
Federal Science Minister Kirsty Duncan said, "The Canada First Research Excellence Fund will equip Canada to respond to some of the most pressing issues it will face in the future: brain health, sustainable food and water supplies, environmental concerns and future energy supplies. The research supported through the Fund will make the country stronger."
With HBHL in place, McGill will recruit new researchers in a range of related disciplines, including mathematics, computer science, biology, social science, and policy. Other measures to support the program include funding for international collaboration and innovation activities, and fellowships to attract top students and trainees.
This means opportunities for dozens of McGill researchers to participate in the over-all research effort, said Rosie Goldstein, Vice-Principal (Research and Innovation).
"Healthy Brains for Healthy Lives charts an exciting new course for ground-breaking interdisciplinary research in Canada. Specifically, its pairing of neuroinformatics with robust social science and public policy components is key to this initiative's success," she said. "In anticipation of the program's official launch, I encourage McGill researchers from all disciplines to consider how they might get involved in this extraordinary opportunity to bring about historic change in our understanding of the human brain and mental health."
McGill will implement a robust framework for HBHL governance with clearly defined roles and responsibilities, decision-making authority, and accountabilities. The program will be led and governed by a Board of Directors, which V-P Goldstein will chair, as well as an International Advisory Board, and a Research Management Committee.
McGill is prepared for the rapid and full-scale launch of the HBHL governance structure and research initiatives following the public announcement of CFREF funding. The required infrastructure, technology, academic and administrative leadership, and research policy frameworks are all in place, Goldstein said.
"The University's experience in managing projects on this scale as well as past investments in human capital and infrastructure, including the Canada Excellence Research Chairs (CERC) and Canada Foundation for Innovation (CFI) funding, will ensure implementation plans will be executed efficiently and with strong accountability."
The first funding calls will be issued within six months and will be open to all researchers and assessed by an independent peer-review committee.