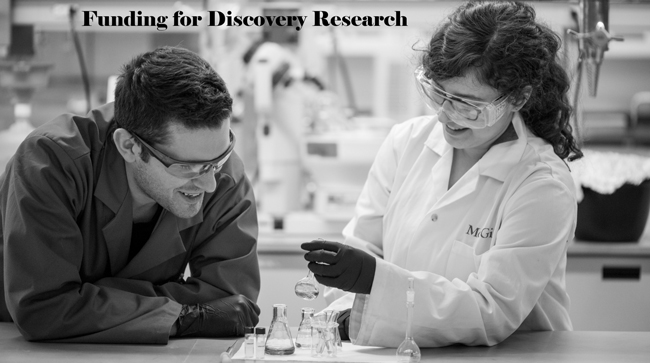 In April 2017, Canada's Fundamental Science Review Panel, under the leadership of former University of Toronto President David Naylor, released its report, and with it, a call-to-action: Canadians must make the case for why Canada's research ecosystem urgently needs to be re-funded and revitalized. Since the release of the "Naylor Report," McGill has been answering that call and raising awareness through various initiatives, highlighted in a recently launched website, Funding for Discovery Research.
The newly launched site features resources and toolkits about the report as well as details how students, staff and academics can support its findings. The site also collects media coverage and commentary about McGill's advocacy efforts, including the #SupportTheReport conversation on Twitter.
Comprised of nine experts, Canada's Fundamental Science Review Panel included McGill's Vice-Principal, Research and Innovation, Martha Crago. Together with students and other members of the McGill community, Professor Crago has led McGill's advocacy effort since she returned to the University in July.
"I am very proud of the McGill community's efforts in support of the Fundamental Science Review," said Professor Crago. "The strong collaboration among students, staff and academics has demonstrated that investment in research excellence and diversity is important to the University community and to society as a whole. Transformative discoveries lead to new knowledge about our world and this knowledge creates new social, economic and medical opportunities."
The Naylor Report makes 35 recommendations, including strengthening the foundations of Canadian research through increased federal funding, improving coordination of funding agencies and promoting diversity – recommendations Canada's research community is hopeful will be reflected in the 2018 federal budget.
Professor Martha Crago explains fundamental research and its importance.
Since the release of the report in April, McGill academic administrators and researchers have been raising awareness on university campuses across Canada through various events and taking the opportunity to speak with media and with Members of Parliament to discuss the importance of increased funding. Some of the activities included hosting tours of McGill labs for MPs, during which they met with McGill students conducting basic research.
"Funding for fundamental research is critical for training Canada's young talent," said Vanessa Sung, McGill PhD student. "We felt it was important for students to be actively involved in supporting the Naylor Report, not only for our own future careers but for the future of Canadian science."
McGill and Montreal-based groups like Science & Policy Exchange (SPE) and  the McGill Association of University Teachers (MAUT) have led grassroots campaigns in support of the report. SPE created the trending hashtag, #Students4theReport, and led a letter-writing initiative, encouraging students to sign an open letter to Prime Minister Justin Trudeau. SPE also collected and shared video testimonials from students and researchers promoting the campaign and successfully spreading awareness on this important issue to students across Canada.
"Although most students had heard about the Fundamental Science Review, many did not know how important its recommendations were for their future," said Shawn McGuirk, McGill PhD student and Co-President of SPE. "We wrote the #Students4theReport open letter for them and for ourselves, and the response was larger than we imagined with over 1200 signatures and 300,000 students represented. Now that Budget 2018 is around the corner, the federal government knows that students and young researchers are paying attention."
To read more about McGill's advocacy efforts in support of the Naylor Report, visit the Funding for Discovery Research page.