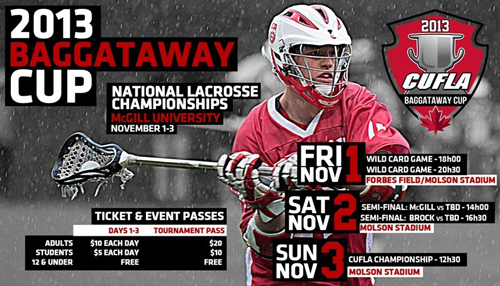 By Earl Zukerman
McGill will host the Canadian University Field Lacrosse Association's national championship this weekend. The six-team tournament begins with quarterfinals on Friday, Nov. 1 at Percival Molson Stadium. All games to be streamed live at www.ssncanada.ca/games
The qualifying teams competing for the Baggataway Cup are the McGill Redmen, Queen's Gaels, Guelph Gryphons, Western Mustangs, Bishop's Gaiters and Brock Badgers.
Tickets are $10 per day or $20 for a three-day tournament pass. The student rate is $5 and $10, respectively. All children, 12-and-under, are admitted for free. Tickets can be purchased at the door or at the Redbird Sports Shop located inside the Currie Gymnasium, 475 Pine Avenue West.
McGill, which captured their first-ever CUFLA title last fall, enter the tourney with an unblemished 10-0 record after winning the CUFLA East Division pennant. In last year's final the Redmen emerged with a 7-6 overtime victory against Western.
Brock won the CUFLA West Division this season with an 11-1 regular season record. The Badgers have a history of success in the CUFLA championship tournament, having won 18 of the previous 28 tournaments.
Both division winners have earned a bye to the semifinal round on Saturday.
The 2013 tourney opener, slated for Friday at 6 p.m., features Queen's (7-3) against Western (10-2), followed by the other quarterfinal between Guelph (9-3) and Bishop's (7-3) at 8:30 p.m.
McGill will face the winner of the Queen's – Western contest, while Brock will meet the winner of Guelph – Bishop's. The semifinal survivors will then faceoff against each other in Sunday's championship final at 12:30 p.m.
To watch the team's 2013 highlight video, click here.