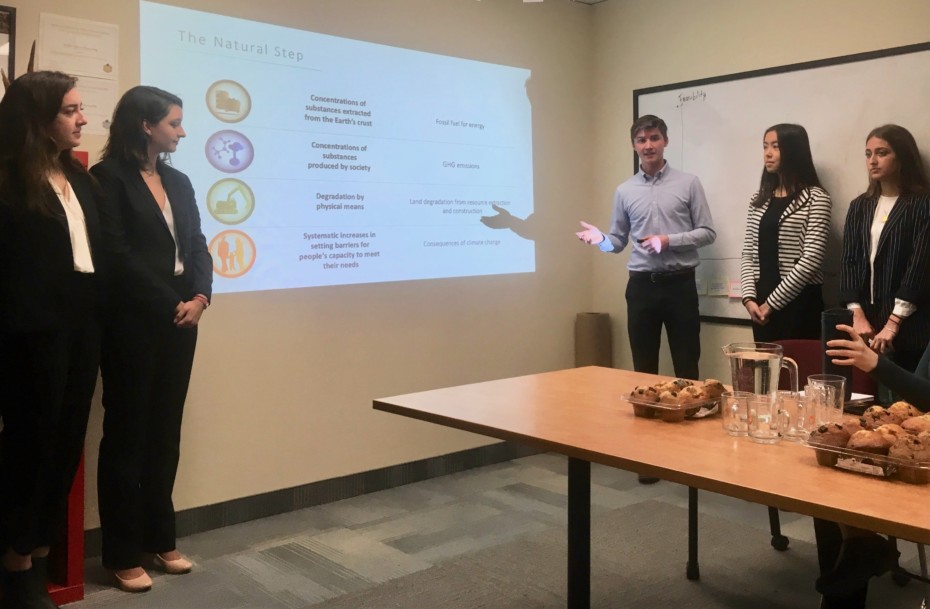 While university students graduate having completed rigorous and enriching coursework, there is a growing importance for students to have experience applying their learned skills to real-world situations. Through the Applied Student Research (ASR) opportunities, McGill students have the opportunity to directly apply their learned skills to streamlining and improving sustainability initiatives on campus.
One such example of McGill's ASR program, students in the Managing for Sustainability major's MSUS 401: Sustainability Consulting course were able to provide tangible suggestions to programs at the McGill Office of Sustainability. Taught this past winter semester by Professor Esther Dormagen, the course allowed students to conduct research and present suggestions to improve sustainability programs on campus.
Combining management skills and strategic thinking
"This course intrigued [me] because it applies management skills and strategic thinking to a purpose that is different than the traditional profit maximization ideology that pervades the business world," said Jonathan-Felix Giroux, a recent McGill graduate who took Prof. Dormagen's course and worked to improve McGill's Sustainable Events Certification Program.
Over the course of four months, the 16 Managing for Sustainability students interviewed their clients, met with key project stakeholders, surveyed members of the McGill community, and applied material learned in course lectures during their work with clients.
"We conducted a survey and interviews to understand the current situation and people's experience with the certification process," said Giroux. "Based on these answers, we researched the best practices put in place by other universities and event certifiers for inspiration to offer recommendations."
Developing a carbon offset program
Leila Gebara, another Managing for Sustainability student who participated in the ASR program, worked on a project about creating a carbon offset program at McGill. Gebara mentionned that developing a carbon offset program interested her as it provided a "high impact, large scale challenge."
"Our team recommended that McGill must first emphasize reducing their air travel emissions by improving the videoconferencing infrastructure, incentivizing alternative modes of transportation, and an educational campaign regarding carbon offsets," said Gebara. "We concluded that it is essential that stakeholders are consulted in the project selection process, and we created an implementation plan to continue the program."
Ali Rivers, Climate Officer at the McGill Office of Sustainability, has worked with students enrolled in ASR program courses since starting her role at McGill in 2017. "It's always a really rewarding part of my work, and the project with my team of MSUS 401 students was no exception," said Rivers who has utilized recommendations from Gebara's team towards the development of a carbon offset program.
"We've already taken action on a few of the many recommendations, most notably by striking an Offset Selection Committee," Rivers said. "We also created the #BecauseIDidntFly campaign to help promote awareness of the need for reductions in air travel and highlight members of our community who are taking these steps."
Bringing programs to the next level
According to Shona Watt, Sustainability Officer at the Office of Sustainability and 'client' for students working to improve McGill's Sustainable Events Program, the team provided "lots of suggestions on how to take [the] Sustainable Events Program to the next level."
"The students' external perspective really helped me validate what I thought could be improved about our program," said Watt. "We have already implemented many of their recommendations and we are seeing the positive impact of these improvements."
The skills students develop through the ASR program have proven to extend beyond life as a McGill student. Giroux, who has turned his passion for sustainability into a job at a social impact consulting firm, credits the course with preparing him for real client projects.
"In my first months, I used a lot of the learnings from this course and my major in general as I was put on client projects," he mentioned. "The articles and research we used in class … are the same I use at work on a daily basis working for clients."
"This is what makes this program awesome," continued Giroux. "As a (Managing for) Sustainability graduate, you are as knowledgeable about sustainability and social innovation as someone who has professional experience since the research keeps coming out and the field is rapidly evolving."