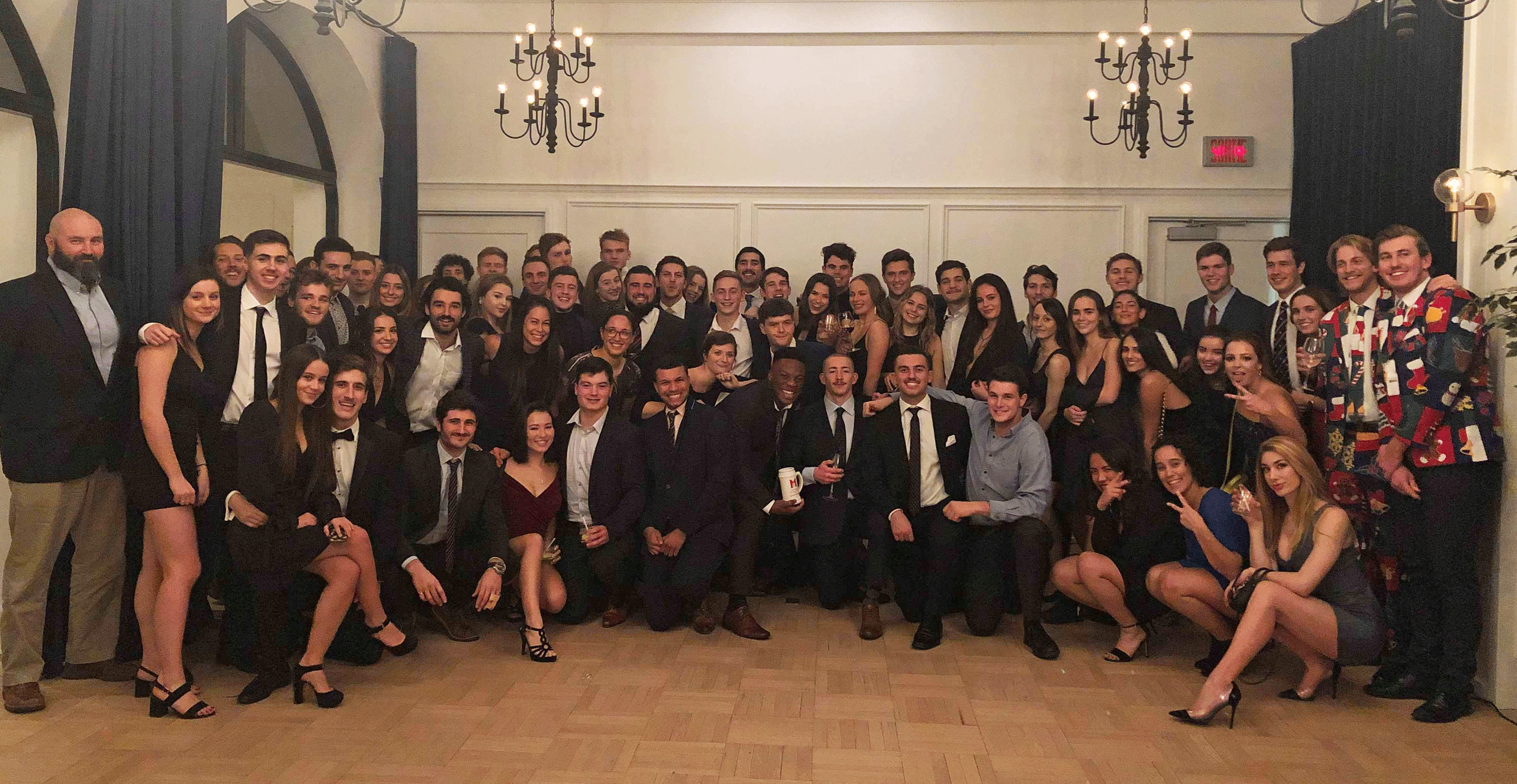 McGill's men's rugby team capped its impressive season by winning the annual Movember sweepstakes which sees the University's sports teams battle for bragging rights as top fundraiser.
The final contest in the bracket-style competition pitted the ruggers against their football counterparts. In the end, rugby ruled the day, or month, raising $3,210. The total far surpassed the team's relatively modest $417 raised last year.
The Movember Foundation is a global charity focused on the biggest health issues faced by men: prostate cancer, testicular cancer, mental health and suicide prevention. In the last 15 years, the foundation has raised $837 million and funded more than 1,200 men's health projects around the world.
Movember supremacy
Movember McGill oversees the friendly rivalry between McGill's sports teams each year who vie for moustachioed supremacy. Eric Shuell, Director of Awareness for Movember McGill and a rugby player himself, commented: "Congratulations to my amazing teammates for tackling men's health and making a significant contribution to McGill's overall Movember tally of $36,838 this year. They knocked this one out of the park."
McGill encourages its athletes to be goodwill ambassadors not only for the University's student community, but for the entire Montreal community at large. Marc Gelinas, McGill's Executive Director of Athletics and Recreation, praised the effort. "Kudos to all our athletes for contributing to this campaign, and a special shout-out to our varsity rugby players for raising this significant sum. They have earned their crown until next November."
McGill rugby alum Mark Hantho, Chairman of Global Investment Banking at Deutsche Bank Securities in New York, concurred. "I was delighted to be able to support this fantastic effort of our young McGill athletes from across all sports, but especially the rugby team which has performed so brilliantly in this very worthy endeavour," he said. "Part of being lucky enough to represent McGill on the sports field is being a good citizen off the field – and that is exactly what this team has collectively done."
Successful season, on and off the field
Michael Modafferi, a McGill engineering student and the current President of the rugby team, said the successful Movember drive was a perfect way to end the 2018 season. "We are so pleased with the outcome of our Movember campaign this year," he said. "Between our successful fundraiser on McGill 24 day last March; our two Covo Cup victories against Harvard on home turf and in Cambridge; our very productive 'Rugby Summit' with our alumni in Toronto last summer; our strong second-place finish in our RSEQ conference's regular season; and now this Movember result, 2018 has been an incredible year for the team. I also congratulate the varsity hockey team and all my fellow McGill athletes for their strong showings and for coming together to raise awareness."
The rugby club, which includes both the varsity and development squads, held their annual season-end banquet last Friday night at Montreal's Atwater Club.
"I could not be more proud of our rugby team," said head coach Ian Baillie. "One of the great joys of being head coach is not only seeing our team's athletic success on the field, but also seeing our boys acting like role models in the community and making a positive difference to others. Their huge success with this year's Movember event is something that would make any coach smile."
Next on the agenda for the team will be preparing for another successful McGill 24 fundraiser in March 2019. The team raised $25,000 in last year's edition, and they aim to double that sum next spring.