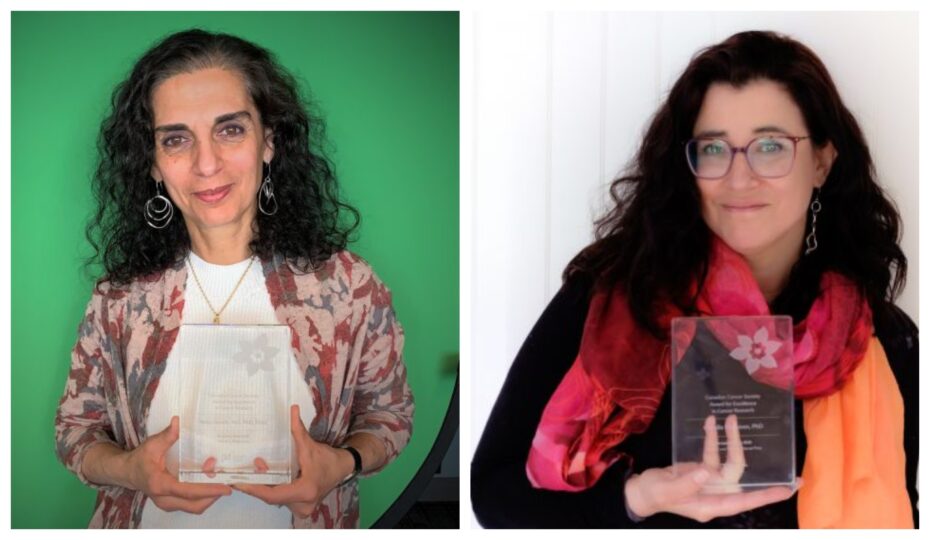 McGill University's Dr. Nada Jabado and Dr. Claudia Kleinman are among the seven prominent Canadian researchers recognized by the Canadian Cancer Society (CCS) with a 2020 CCS Award for Excellence for their bold leadership and trailblazing contributions to drive progress in multiple areas of cancer research.
Dr. Jabado, Professor in the Department of Pediatrics and Human Genetics at McGill, is the recipient of the Robert L. Noble Prize for discovering that brain tumours in children are fundamentally distinct from the same tumours found in adults and that nearly half of pediatric glioblastomas, an aggressive type of brain tumour, are caused by mutations in genes that affect how DNA is structured and organized. Her work has fundamentally changed our understanding of childhood brain tumours and how to treat them, helping children live longer and experience a higher quality of life.
"I would like to thank the Canadian Cancer Society for their recognition of our work," says Dr. Jabado. "This goes a long way to show families and patients who donated tissue samples knowing it was of no benefit for their care, that we are on the right track for finding new lifesaving therapies for others soon. This is the fruit of a team effort, and this honour also befalls on the amazing people in my lab and our collaborators with whom we strive to rapidly improve our understanding and care of childhood and young adults brain cancers."
"As a world leader in pediatric brain cancer research, Dr Jabado's work has fundamentally changed our understanding of these tumours and how they should be treated," notes Dr. Stuart Edmonds, Executive Vice-President, Mission, Research and Advocacy at CCS. "We applaud Dr Jabado's commitment to driving progress so that more children with brain tumours can live longer, fuller lives."
Dr. Kleinman, Assistant Professor in the Department of Human Genetics at McGill, is the recipient of the Bernard and Francine Dorval Prize for her work mapping the development of the human brain at the single cell level to identify when and where different childhood brain tumours arise.  These findings have changed how some tumours are studied and identified new potential treatments for others, paving the way for improved outcomes for children with these deadly cancers.
"I am extremely grateful to the Canadian Cancer Society for this recognition of our work, which reinforces our conviction that this the area to focus all our efforts," says Dr. Kleinman. "Childhood brain tumours remain an important challenge. We hope that harnessing the power of computer science and high-resolution technologies to profile cancer cells, we will be able to tackle the complexity and get one step closer to improve the outcome of these deadly tumours."
"Dr Kleinman is truly a one-of-a-kind researcher who possesses a rare combination of expertise in both computer science and molecular biology," says Dr. Edmonds. "With this unique skillset, she has uncovered critical insights into how childhood brain tumours arise, paving the way for more effective treatments to improve outcomes for these children."