Gaining Brains
After years of stories about how Canada's best and brightest were being lured out of the country, the tide is turning. McGill is helping reverse the brain drain with a 10-year recruitment plan to attract 1,000 professors in strategic areas, thanks in part to programs like the federal government's Canada Research Chairs.
Of the 620 new faculty hired to date as part of the recruitment plan, 335 came to McGill from outside the country, including more than 100 Canadians who returned home.*
---
Return on Investment
Commercialization activity at McGill is on the upswing, fuelled by a growth in government research funding and the University's enhanced focus on knowledge transfer. The number of patents granted and the number of licenses and options has tripled since 1995-96. The University also signs almost 50 per cent more contracts with industry than it did in the mid '90s.
The bottom line? McGill research results are improving the economy and serving the community.
---
Fuelling the Knowledge Economy
With knowledge replacing natural resources as the engine of Canada's economy, organizations are demanding more and more highly trained, enterprising workers. Over the past five years, McGill's graduate student population has expanded by 25 per cent. The University's 9200 graduate students, residents and postdoctoral fellows make up more than one-quarter of the student body, the highest proportion of any university in Canada.
---
High-Performance Research
Research funding at McGill in 2003-04 totalled $543.5 million. In addition to industry investment, major support included grants from the three federal granting councils, the Canada Foundation for Innovation, the Canadian International Development Agency and other bodies, and the Government of Quebec through agencies such as the Fonds de la recherche en santé du Québec, Fonds québécois de la recherche sur la nature et les technologies and Fonds québécois de la recherche sur la société et la culture.
McGill has the highest average level of research funding per full-time professor of any university in Canada.
---
Turning Points 1975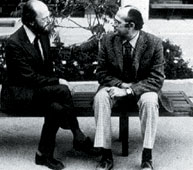 Psychologist Ronald Melzack introduces the McGill Pain Questionnaire, still the world's most widely used tool to evaluate pain in patients. The first to define different types of pain, Melzack's questionnaire grew out of his groundbreaking gate control theory of pain, published in 1965 with MIT's Patrick Wall. The initially controversial theory proposed that pain isn't a straightforward matter of stimulus and response – e.g., you cut your finger, you feel pain. Instead, the pain pioneers showed that the other sensory inputs and emotions our brain is processing directly affect how we experience pain.
In short, pain isn't in our nerve endings – it's in the brain.
* Adjustment made to online version February 2006