Office for Undergraduate Research in Science
The Office for Undergraduate Research in Science (OURS), launched in September 2005, aims to establish active research as a cornerstone of undergraduate education, strengthening student understanding of the process and products of scholarship through first-hand experience. OURS' annual Undergraduate Research Conference showcases the results of recent student research, and its popular "Soup and Science" lunch series provides a venue for students to discuss working with professors on research projects.
But the students aren't the only people who benefit from such collaboration.
"Undergraduate researchers bring forward projects, they have new ideas, they discover new things," says Roland Bennewitz, a professor of physics who has worked with 14 undergrad researchers since coming to McGill in 2004. This past summer, Bennewitz asked one such researcher to build an apparatus which makes the signal of a scanning force microscope audible; instead of following the suggested design, the student built an ingenious modification which dramatically improved the device's sensitivity. "He had his own ideas, and was open to experimenting with new ways—and he taught me things about electronics!"
OURS is only the first step, with similar initiatives planned for other faculties as part of McGill's new focus on undergraduate research.
"These are very good students," adds Bennewitz. "They're refreshing, and really contribute to science."
Patents
Patenting new discoveries is a crucial step in the real-world application of academic research. Patents give McGill-affiliated companies the exclusive right to bring fresh ideas to the open market, an invaluable contribution to Canada's economic and technological growth. According to the Association of University Technology Managers' most recent U.S. Licensing Survey (for the fiscal year 2004), McGill researchers received a whopping 30 U.S. patents, a dozen more than the nearest competitor. Not only does McGill lead the nation, it holds 20% of the U.S. patents issued to all Canadian universities participating in the survey that year.
This success has not gone unnoticed. Citing McGill's average of 28 U.S. patents issued per year (for the years 2000-2004), the Milken Institute recently ranked McGill 14th in the world for translating its biotech research into patents. The independent economic think-tank's report placed McGill ahead of all other Canadian universities, as well as Yale and UCLA.
Turning Point 1955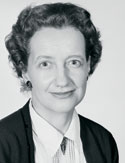 Known as HM, the man standing before Dr. Brenda Milner was a mystery to the young scientist—and to himself. He could remember events from before undergoing brain surgery—a bilateral medial temporal lobe resection to remedy his epilepsy—but was now unable to form new memories. Told his doctor's name, HM would forget it as soon as he was distracted by new stimuli.
And yet Milner, a British expatriate who had been trained by McGill psychology pioneer Donald Hebb, persisted. Through her testing of HM, she found that the surgery didn't interfere with his capability for certain kinds of learning, in particular the acquisition of new motor skills. With this revelation, Milner provided early evidence that humans have multiple-memory systems which govern different tasks (like language), opening the way for a greater understanding of how the brain works. HM became one of the most important case studies in cognitive neuroscience, thus ensuring he would never be forgotten.