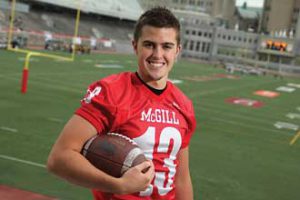 By Jim Hynes
When a parent is famous because of their job, there are pretty much two ways their children will react: entirely reject that job as a potential career, or heartily embrace it. McGill Redmen placekicker Austin Anderson is definitely in the latter category.
Not that the 21-year-old son of National Football League kicking legend Gary Anderson grew up wanting to kick field goals like dear old dad. Austin Anderson is just passionate about football, period.
That passion is easy to understand when you consider that for the first 16 years of Austin's life, his dad was earning his living in the NFL. The Management major was born in Pittsburgh, Penn., where Gary Anderson was in his eighth season wearing the black and gold of the beloved Steelers. And since his father played for five teams in 23 seasons before retiring for good at age 44, Austin and his brother Douglas virtually grew up around the game.
"We were a little older than the other players' kids so we got to enjoy the experience more than others. We were old enough to be ball boys at games and training camps," said the younger Anderson, currently in the middle of his third season with the Redmen. "I remember quite a bit. It was a really great experience,"
Yes, football is in Austin Anderson's blood. He played Pee Wee and Junior High football in Minneapolis, Minnesota while dad was booting the pigskin for the Minnesota Vikings. The Anderson family moved to Canmore, AB, after Gary first retired. At age 16, Austin was the quarterback for his high school team, the Bow Valley Wolverines, his last team before coming to McGill for the 2008 season.
Fatherly advice from an NFL legend
"I actually played quarterback the whole time growing up," Anderson said. "It wasn't until my first year of high school, when kicking started becoming a bigger part of the game, that I took it up. I was very blessed to have some natural ability in that area. And my dad really helped me develop that. Eventually the guys got a lot bigger than I did, so I didn't feel like I could play quarterback anymore, and kicking just kind of stuck with me."
So did the master start teaching his son to kick when he was only kneepad high?
"Not really," Anderson said. "We played a lot of soccer growing up. My dad really pushed soccer because that was his heritage where he grew up in South Africa. He never pushed me into kicking. He let me discover that one on my own. But whenever I needed help or wanted some advice, I'd go to him and he'd be willing to help me out."
That "helping out" has paid off nicely. While Anderson père is all over the NFL record book (he was the NFL's all-time leading scorer for a number of years and had a perfect regular season in 1998), his son hasn't wasted any time making his own mark on McGill's. He can already lay claim to eight of the 20 longest field goals in Redmen history, including the third longest, a 49-yarder against Bishop's on Sept. 11. The following week, against Concordia, during the same game in which he tied a McGill single game record by kicking six field goals, he hit field goals of 48 and 46 yards.
Anderson's McGill career certainly got off to an eventful start. On Sept. 6, 2008, in first official CIS game, he was 5-for-5 on field goals, making kicks of 27, 43, 21, 42 and 32 yards. Unfortunately, that would be his last full game of the season. A sports groin injury the following week shelved him for the remainder of the year. He rebounded nicely in his sophomore year, hitting 12 of 14 field-goal attempts on his way to earning conference all-star status. After the first five games of this season, Anderson leads the Redmen in scoring with 37 points.
Attracted by the academics
Anderson almost didn't come to McGill at all. He was actually eyeing a number of U.S. schools, including the University of Texas, when Redmen coach Sonny Wolfe came calling.
"I really liked what he had to say football-wise, but especially academic-wise," Anderson said. "Academically McGill, because of it's reputation, was an institution I was very interested in. I thought McGill would be a perfect fit for me."
With practices scheduled six times a week, the workload from his studies at the Desautels Faculty of Management, and the time he devotes to the McGill Varsity Council (he's currently its vice-president), the two-time CIS Academic All-Canadian is a busy man.
"There's not a whole lot of free time, that's for sure," he said. "It kind of forces you to focus, because there's not a whole lot of time for much else. When I'm not in football I have to be in the books to keep up with the work."
In practice, Anderson spends most of his time working on kicking technique with Redmen punter Tomas Silva.
"Many people don't realize that kicking a football is a very violent motion, and that doing it over and over again can really take its toll on your body. So we try to focus on quality and not quantity, and we really work on staying smooth. It's like golf that way – it's all about how you make contact with the ball," said Anderson, an avid golfer with a number of hole-in-ones to his credit. "I'm not the biggest kicker in our league, but I can kick the ball further than some just because I don't go out and try to crush it."
Anderson isn't looking too far beyond his career at McGill – he's scheduled to graduate at end of next season. That said, he admits to aspiring to a career in professional football.
"Absolutely. I really have a lot of passion for football and would love to take it to the next level. And it's something I'm working really hard at," he said. "I'm also working really hard at the business school in case football doesn't work out. I'm just trying to work hard and waiting to see what kind of plan the Lord has for my life, and I'm going to take it wherever he wants me to go."
Anderson and the Redmen, still looking for their first win of the season, head across town to take on the 2-2 Concordia Stingers at Concordia Stadium at 1 p.m. Saturday, Oct. 9.