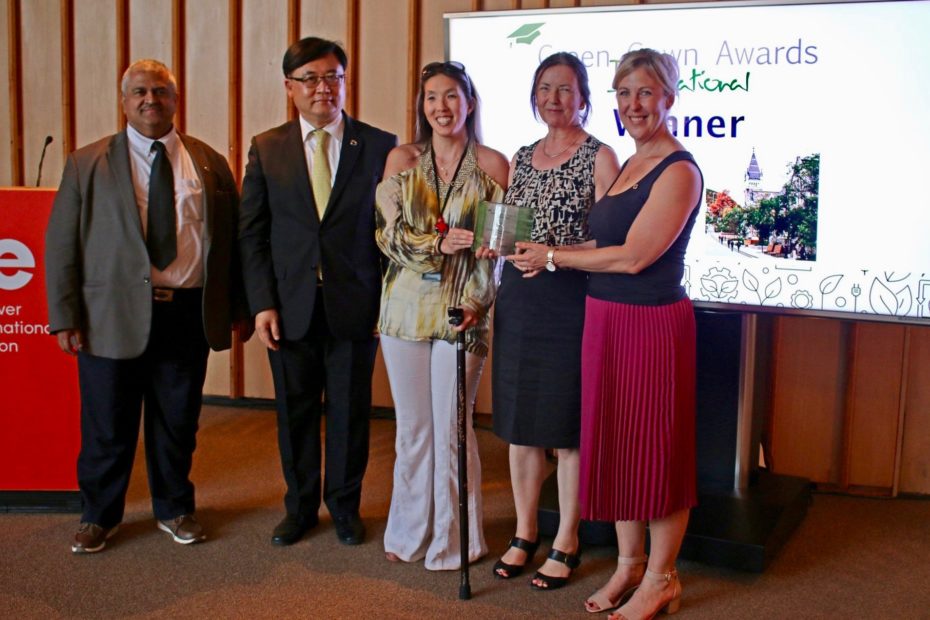 McGill was named the International Green Gown Award's Sustainability Institution of the Year for its "ambitious yet realistic' Vision 2020 Sustainability Strategy.
The recognition was presented at the awards ceremony at the UN High Level Political Forum in New York City on July 10.
The awards, endorsed by UN Environment, recognize institutions in three categories: Benefitting Society; Student Engagement; and Institution of the Year. In addition to highlighting the sustainability initiatives underway within universities and colleges around the globe, the awards encourage those institutions to share their learnings and best practices as they work in line with the 17 UN Sustainable Development Goals.
Vision 2020 touted for impact "within and beyond the University"
In choosing McGill over the 26 other finalists for this year's awards, the judges wrote that, "The collective action and achievements at McGill over the long and short term are truly impressive and its Vision 2020 strategy has delivered substantial sustainability benefit and impact within and beyond the University."
The Sustainability Institution of the Year category "recognizes sustained, whole-institution commitment and impact to becoming a sustainable organization," with emphasis on four key areas: Leadership and Governance; Estates and Operations; Learning, Teaching and Research; and Partnership and Engagement.
The judging panel was composed of the specialists from the sustainability and higher education fields, representing organizations such as the Alliance for Sustainability Leadership in Education, the Association of Commonwealth Universities, UN Environment, and the Institution of Environmental Sciences.
Zeroing in on carbon neutrality
In focusing on Vision 2020 Sustainability Strategy, McGill highlighted its carbon neutrality target, as well as the monitoring and reporting mechanisms established to ensure support from stakeholders across the University. Those mechanisms include the Advisory Council on Sustainability, annual sustainability key performance indicators presented to McGill's Board of Governors, and a greenhouse gas inventory that goes above standard reporting requirements by including indirect emissions, such as those coming from commuting and university-financed air travel.
McGill's application also underlined the significance of community engagement, through the Sustainability Projects Fund (SPF). It the largest fund of its kind in Canada, valued at approximately $980,000 annually, and is supported by a student fee that is matched dollar-to-dollar by the University.
The SPF provides seed funding for student, staff and faculty projects that work towards fostering a culture of sustainability on campus. For example, a $250,000 fleet electrification project funded by the SPF directly contributes to attaining carbon neutrality.
The Sustainable Workplace and Sustainable Events Certification programs are also leading examples of McGill's community involvement in sustainability. More than 25 workplaces, including offices and student groups, and over 140 events have been certified since the programs began in 2017.
"[McGill's] desire to 'strive to be one of the best universities in the world by doing our best for the world' is very ambitious but being delivered," the judges wrote.
Learn more about the International Green Gown Awards, the winners and finalists here.