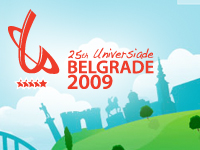 McGill University will be represented by four students and one administrator when the 25th Summer Universiade gets under way this week in Belgrade, and once again Canada is sending one of the largest delegations to the biennial World University Games.
A total of 307 individuals will wear the maple leaf in Belgrade including 212 athletes and 95 coaches, medical and administration staff. Not included in the official tally are 12 Canadian referees and judges who will also be part of the FISU Games.
Steven Bielby, a 19-year-old electrical engineering freshman from Pointe Claire, Que., will swim for Canada, while Redmen midfielder Jamie Scholefield, a 22-year-old management senior from Senneville, Que., is on the men's soccer team. Christine Gros, an arts and science sophomore from Richmond Hill, Ont., and Jenna Crook, a science junior from Regina,  are both part of the water polo squad.
Also representing McGill in an administrative capacity will be Drew Love, director of athletics and recreation, who will be serving as Canada's chef-de-mission.
The sport of swimming is sending the largest team to Serbia with 42 student-athletes set to compete at the pool, followed by athletics (29), women's soccer (20), men's soccer (18), women's and men's water polo with 13 apiece, women's and men's basketball and women's and men's volleyball, all with 12, diving (6), taekwondo (5), archery (4), tennis (4), fencing (3), table tennis (3), judo (2) and rhythmic gymnastics (2).
While the official dates of the Belgrade Games are July 1-12, the two soccer teams kick things off for Canada on Tuesday, June 30. The Canadian women are in tough in their opener as they are set to face host Serbia at 10:30 a.m. local (4:30 a.m. Eastern), while the men battle the Czech Republic at 5:30 p.m. (11:30 a.m. Eastern).
The action resumes on July 1 with Canada facing Slovakia in women's basketball at 12:30 p.m. (6:30 a.m. Eastern) and the host Serbs in women's water polo at 2 p.m. (8 a.m. Eastern). Women's water polo is making its Universiade debut in 2009.
The opening ceremonies are scheduled for the evening of July 1.
Canada won 16 medals at the last FISU Games in 2007 in Bangkok, Thailand, including 10 in swimming (4 golds, 2 silvers, 4 bronzes), gold in women's softball, silver in men's volleyball, a pair of bronzes in judo, bronze in men's basketball and one bronze in athletics.
For  information on Team Canada and/or the 25th Summer Universiade, please visit:
Team Canada website: www.universitysport.ca/belgrade
2009 Summer Universiade website: www.universiade-belgrade2009.org