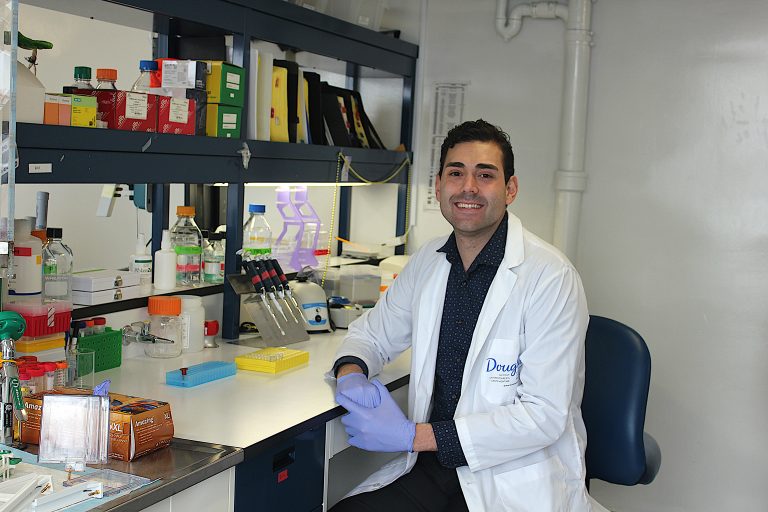 Daniel Almeida, a PhD student under the supervision of Dr. Gustavo Turecki in McGill's Integrated Program in Neuroscience and at the Douglas Research Centre, was included in Forbes Magazine's Top 30 under 30 list, unveiled December 3. Overall, the ninth annual list includes 600 young entrepreneurs, risk-takers and game changers who are redefining what it means to innovate and lead by example. Almeida's research is focused on understanding the cell-type specific molecular alterations in the brains of depressed individuals who died by suicide and who had a history of severe childhood maltreatment.
"Being selected for Forbes' 30 Under 30, in the category of science, means a lot to me," says Almeida. "I strongly believe in the importance of the work that we're doing in the McGill Group for Suicide Studies (MGSS). The translational nature of our work makes it easy to visualize the impact that our research may one day have on the lives of individuals suffering with a mental illness. I am so honoured to not only be part of such an amazing team but to have the opportunity to share my research with the world."
Motivated by father's stroke
A devastating change to Almeida's life during his formative years sparked his fascination with the human brain, eventually leading him to Montreal, and McGill, for his doctoral studies. "In the later years of my high school education my father survived a major stroke," says Almeida. "During the eight months that followed, his recovery instilled in me a fascination for the brain. Prior to his stroke, I had already developed an interest in biology. This life experience, however, clarified that the area of biology that I was most passionate about was neuroscience."
Almeida, a native of Milton, Ontario, completed his undergraduate degree at the University of Toronto, where he specialized in comparative physiology and majored in psychology, completing an Honours Thesis under the supervision of Dr. Ashley Monks in behavioural neuroscience.
For his PhD, he was drawn to the Douglas, home to some of the world's brightest minds in the field of mental health, and in particular to the MGSS, led by Dr. Turecki. The availability of psychiatrically-characterized post-mortem human brain samples through the Douglas-Bell Canada Brain Bank made Almeida's current research possible.
"Understanding the molecular changes that occur in the brain is particularly valuable because these may influence behavioural and mental health outcomes later in life," explains Almeida. "The brain is made up of a variety of distinct cell types, each of which may respond differently to childhood maltreatment, and through my work, we may learn to appreciate the discrete changes that occur in individual cell types."
Almeida has previously been awarded a number of prizes throughout his academic career, including the Chubb Insurance Company Bursary for his undergraduate studies, and, more recently, the prestigious Vanier Scholarship, a federally-funded scholarship designed to recognize and promote future leaders in research. He has demonstrated this leadership through a variety of mental health advocacy and science communication initiatives.
Value of clinician-scientists
"I am so proud of Daniel for everything he has accomplished since joining my lab in 2014," says Dr. Turecki, who is the Chair of the Department of Psychiatry at McGill and the Scientific Director at the Douglas. "Daniel came with a unique skill set and watching him grow over the last few years has been a pleasure – I am thrilled that he is getting the recognition he deserves and am looking forward to seeing where his passion and ambitions take him."
As for his future plans once he has completed his doctoral work, Almeida has some idea of what he hopes lies next. "Following my PhD, I plan to pursue a medical degree with later specialization in psychiatry," he says. "My research in the MGSS has shown me the value that clinician-scientists bring to research. There is still much to be discovered regarding the molecular impacts of childhood maltreatment. I thus hope to continue with a strong research career that advances our understanding of these impacts."