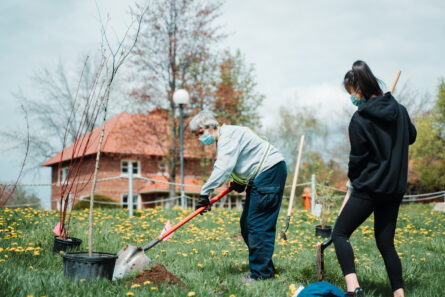 McGill has been named one of Canada's Greenest Employers for the fifth consecutive year, Mediacorp Canada announced earlier today.
The designation "recognizes the employers that lead the nation in creating a culture of environmental awareness in their organizations," explains Mediacorp Canada, an editorial group that hosts a series of competitions that recognize organizations that support employee success and engagement across different areas.
"More than ever, employees and job seekers are showing a preference for workplaces that align with their values. This designation reflects the importance of sustainability efforts that many McGill employees support and contribute to in tangible ways," said Diana Dutton, Associate Vice-Principal Human Resources.
Staff spark change with the Sustainability Projects Fund
Like in past years, the Greenest Employer designation recognizes the staff-driven culture of sustainability at McGill. Tools such as McGill's flagship Sustainability Projects Fund (SPF) allow community members to become agents of change in their own areas of work or study by providing the funding and support needed to kickstart sustainability initiatives. The SPF is the largest fund of its kind in Canada, valued at $1 million annually.
"The Sustainability Projects Fund is a cornerstone of sustainability at McGill," said Executive Director of Sustainability Francois Miller. "We are proud to offer our staff, students and faculty the tools and support to become agents of change, further embedding sustainability into the DNA of our University."
Such staff-led initiatives include the Solin Hall Green Roof project, led by Maintenance Manager Jonathan Rousham. When it became clear that the roof on the annex of the Solin Hall residence needed to be replaced, Rousham applied to the SPF to conduct a feasibility study that would determine whether a green roof would be possible.
On the Macdonald Campus, a cohort of staff, students, and faculty members chose to honour the University's bicentennial celebrations by planting 200 trees in underutilized areas, also with support from the SPF. The tree planting, which took place from October 2020 to October 2021, allowed members of the McGill community to engage in the greening of the campus while improving the pedestrian experience and creating learning and teaching opportunities for Farm Management Technology and Plant Science courses.
All in for zero-waste
McGill's significant commitment to becoming zero-waste by 2035 is also recognized by the Greenest Employer designation.
Since 2020, McGill has installed more than 400 standardized waste sorting stations as a part of the University's Waste Reduction and Diversion Strategy 2018-2025. With additional support from RECYC-QUÉBEC, the province's recycling agency, and the SPF, the University has also expanded compost collection in more than 20 major academic buildings across both the downtown and Macdonald Campus.
"We're thrilled to be contributing to McGill's sustainability strategy and by the recognition the community's efforts are receiving," said George Lazaris, Director, Buildings and Grounds. "We're already seeing the benefits of the waste sorting stations and look forward to the even greater strides we can make toward our zero-waste goal through the expanded organic waste collection."
These efforts are complemented by a waste education program out of the Office of Sustainability. Two interns, hired in Winter 2022, oversee an inaugural cohort of Zero-Waste Ambassadors and will conduct waste audits to promote proper waste sorting habits across campus.
Want to learn more about how you can get involved in sustainability at McGill? Read the McGill University Climate & Sustainability Strategy 2020-2025 or join the Sustainable Workplace Certification Program by attending an info session on Friday, April 29 at 11 a.m. Register for the workshop here.