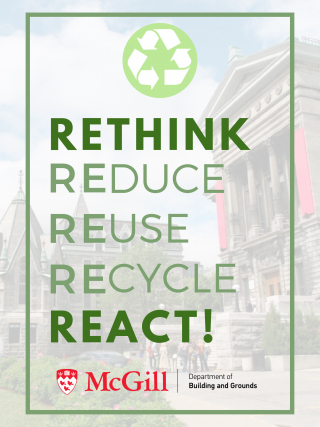 McGill is expanding compost collection across its campuses, taking an important step towards the University's target of becoming zero-waste by 2035.
In December 2021, organic waste collection began in nine buildings on the downtown campus. Collection will begin in an additional 18 buildings across the downtown campus in early 2022, with new standardized bins coming to nine buildings on the Macdonald campuses during the same period.
The expansion was made possible thanks to funding from the province's recycling agency, RECYC-QUÉBEC, with additional support from McGill's Sustainability Projects Fund (SPF).
"By expanding compost collection on our campuses, McGill is taking an important step forward in its journey to zero-waste by 2035," says Executive Director of Sustainability Francois Miller. "We look forward to working with the McGill community to continue improving our waste habits, both on campus and beyond, to create a more sustainable future for all."
Once operational, McGill is expected to recover at least an additional 100 tonnes of organic waste per year thanks to these improvements, equivalent to the weight of approximately 17 elephants.
This will also increase the University's diversion rate, meaning the percentage of waste diverted away from landfill or incineration. McGill's diversion rate was 45.1 per cent in 2020, up 7.5 percentage points from the year before. McGill aims to achieve a rate of 90 per cent to meet the internationally recognized standard for zero-waste by 2035, with an intermediary target of 60 per cent by 2025.
Supporting the next steps in the journey to zero-waste
To support the expansion, McGill received $73,739.90 from RECYC-QUÉBEC within the framework of the Appel de propositions pour soutenir des projets visant la réduction, la récupération et le recyclage des matières organiques du secteur des industries, commerces et institutions. It is financed through the Fonds d'électrification et de changements climatiques. This allows McGill to build upon the groundwork laid in the the University's Waste Reduction and Diversion Strategy 2018-2025.
Through the implementation of the Strategy, the Buildings and Grounds department has installed hundreds of standardized multi-stream sorting stations across campus. Now, a selection of bins in the common areas of major academic buildings will be updated to include an organic waste stream.
"Through projects, such as those currently underway at McGill University, across Québec, we will be diverting large quantities of organic materials from landfills and reducing greenhouse gas emissions in the process. I invite the University community to actively participate in this project, which we are pleased to be able to support financially, and to contribute to its success," says Sonia Gagné, CEO of RECYC-QUÉBEC.
"The RECYC-QUÉBEC funding feeds into a multi-year effort to create a greener, more efficient campus waste management system, with the ultimate goal of supporting the zero-waste by 2035 target," says George Lazaris, Director of Buildings and Grounds.
"Offering organic waste collection across the campus has long been a key piece of this vision," he says. "The funding from RECYC-QUÉBEC is the final piece of the puzzle to finally be able to offer this important service to the campus community. We are grateful for this support."
Big Wave supports big changes in waste management
McGill's Sustainability Projects Fund (SPF) is supporting further improvements to waste management on campus.
The SPF is the largest fund of its kind in Canada, valued at $1 million per year. It has the mandate to build a culture of sustainability on McGill's campuses through the seed funding of interdisciplinary projects. The SPF's Big Wave funding stream supports large-scale, transformative projects that have a long-lasting impact on McGill's campuses.
The $400,000 project will see continued improvements to McGill's waste infrastructure, financing the installation of additional multi-stream waste sorting stations in key areas outdoors on both the downtown and Macdonald campus. A key piece of the puzzle will also be engaging in a critical waste education campaign. The campaign aims to encourage students, staff, and faculty to play an active role in reducing waste and maximizing diversion by practicing proper sorting habits.
"Ensuring that our community is well-informed about best practices in waste reduction and sorting is key to ensuring that the infrastructure is well-utilized." says Lauren MacDonald, Sustainability Officer. "We hope that a peer-to-peer approach to waste education will create a ripple effect of behaviour change and foster a culture of zero-waste on campus."
Two new student interns, with the support of the Office of Sustainability, will create and disseminate a centralized suite of educational materials and resources while identifying opportunities to engage with the McGill community, such as at events, through tabling sessions on campus, and training peer volunteers.
As of December 2021, McGillians can dispose of their organic waste in the Education, Gelber, Genome, James Admin, Leacock, McConnell Engineering, Redpath Library, Rutherford Physics, and Trottier buildings. A full list of locations can be found on the Waste Reduction at McGill webpage.
Want to learn more about waste management at McGill? Register for the Office of Sustainability's workshops, offered through Organizational Development and SKILLS21, or tune in for an Instagram takeover on Instagram.com/mcgillu on Wednesday, Feb. 2 to have all of your compost questions answered.