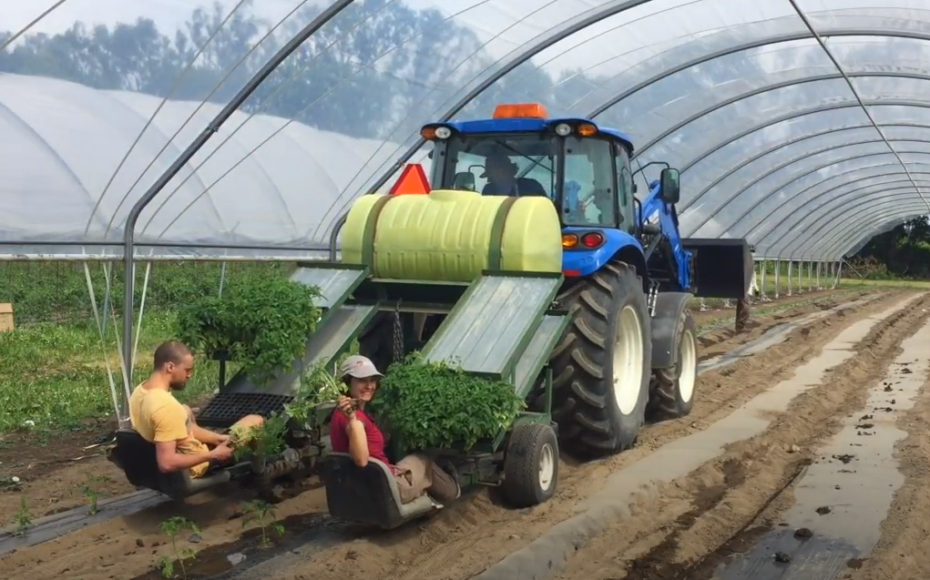 Eating local and in-season is a centre piece of a sustainable diet, but it's also a privilege.
And it was at a Macdonald Campus Founder's Day celebration in 2009 that Mike Bleho, director of the Macdonald Campus Horticultural Research Centre, says a light bulb went off in his head.
Inspired by a presentation from a student about what would become McGill's flagship Sustainability Projects Fund (SPF), Bleho realized that such a fund was exactly what they needed to close the loop between McGill's farm at Montreal's western tip and the dining halls downtown some 35 kilometres away, bringing the privilege of a local and seasonal food system to McGill.
The project, now known as McGill Feeding McGill, is aligned with the SPF's mandate of building a culture of sustainability across McGill's campuses through the seed-funding for interdisciplinary projects. Established in response to student advocacy for greater support of sustainability initiatives in 2009, the SPF is still the result of a student-administration collaboration in which student fees are matched, dollar-to-dollar, by the University.
Since 2020, the fund has been valued at $1 million annually, making it the largest of its kind in Canada.  Because of its high annual valuation, the SPF has the capacity to support projects big and small, from ad-hoc initiatives needing less than $300 to large-scale, transformative projects with resounding impacts McGill campuses. The SPF's Big Wave funding stream supports projects with lasting impacts that require between $100,000 to $400,000.
"Our campuses and community members have benefited immensely from the Sustainability Projects Fund over the past decade," says Executive Director of Sustainability Francois Miller. "I am eager to continue witnessing the ways in which the SPF will help make McGill a more sustainable place to work and study for years to come."
Since its creation, the SPF has allocated over $10 million in funding to more than 275 sustainability projects across McGill. The student-administration collaboration extends past the SPF's funding structure to its outcomes: 86 per cent of projects supported by the Fund are student-staff collaborations.
Creating collaborative links across campuses
The second project ever funded by the SPF, McGill Feeding McGill, continues to transform McGill's food systems by linking the Macdonald Campus farm to the downtown dining halls.
In 2020, in response an ever-growing demand for fresh produce to accommodate the 10,000 meals served daily in McGill residences, the team received additional support from the SPF through its Big Wave stream to extend crop production season.
The $145,000 envelope allowed the team to build two structures, a low-input high tunnel and a greenhouse, to improve McGill's food production capacity in terms of quantity, quality, and seasonality.
"Without using tunnels or greenhouses, we're kind of restricted to growing in season here … We can only really grow up until the frost hits," says Bleho. "By using the tunnels and the greenhouses, we can extend our production, so we're extending the amount of food that we can send to McGill downtown."
He estimates that the new structures will allow the farm to send an extra 3,000 to 4,000 kg of tomatoes to downtown dining halls per growing season.
"I don't know how we would have done it otherwise," says Bleho about the impact the SPF had on connecting the farm at the Macdonald campus with downtown dining halls.
Like the SPF itself, the Season Extension Technology project leveraged the power of both McGill's students and staff. Twenty-nine McGill community members worked to install the new structures throughout the summer of 2020.
"It's very nice to be able to work on," says Mackay Agellon, a recent bioresource engineering graduate who is now in his third season working at the Horticulture Centre. "I've worked on several work crews before doing landscaping or in factories, but this one in definitely stands out because everybody is either McGill staff or McGill grads, so there's definitely sort of more of an academic atmosphere."
"I think [the Season Extension project] tackles really the two favourite things that I have about the job, which are, one, that I get to apply the things that I learned in the classroom," Agellon says. "I also get to be a part of a more sustainable way of growing food which I've come to appreciate–local growing and local produce–a lot more through … my degree."
He continues that being able to gain practical experience in the industry while "selling produce to students like me who are learning the same thing is definitely a fantastic opportunity."
Big Wave creating big changes
As the roof of the Solin Hall Annex, a McGill residence located southwest of the downtown campus, approached its end of life, the Student Housing and Hospitality Services (SHHS) team decided to approach their challenges from a new, more sustainable angle.
The idea: replace the existing roof with an accessible green roof and sustainable rainwater management system.
"A green roof, if well-implemented, has the capacity to moderate temperatures in the building due to its insulating properties, which reduces heating and cooling, meaning energy consumption reduction overall," reads the project's SPF application.
The bonus: the accessible green roof would have the potential to become a learning space for students, whether as an additional study space or as a space to practice urban agriculture, placing the project in line with the new McGill University Climate & Sustainability Strategy. Exploring the use of green roofs to grow food is the Flagship Action for the new Strategy's Food Systems category.
Because of the scale of projects approved through the SPF's Big Wave stream, they can complete a feasibility study to ensure that the project can achieve its goals if needed.
"Absolutely this is a big plug to the SPF as a concept because […] without the SPF we would not have been able to do this," said Maintenance Manager Jonathan Rousham, the project lead.
With an initial contribution of $25,000 from the SPF, an architectural firm has been hired to study what conditions are needed to install a green roof. With the support of McGill's Design Services, Campus Planning and Development Office, and student groups, the findings from this study will be used to expand the criteria for what McGill can turn into a green roof.
"I've always been interested in sustainability, but I never really understood how that fit within my degree," says Ashley Block, a third-year mechanical engineering student who has been working with Rousham on the project.
She says that through her work on the project, she's identified niches that satisfy her desire to work in sustainability while allowing her to use what she's learned at McGill, such as infrastructure design or green roofs companies, giving her new direction for her post-grad plans.
"I think through that [lens], it's been a really cool opportunity."
Rousham says that regardless of the outcome of the project, he believes students involved with he project will feel empowered having played a role in furthering McGill's internal policies and standards, "because that's something that I think is always there on the wish list of things that that people want to do: feel like they've left a mark."
"The Sustainability Projects Fund has tried so hard to [help students] do that," Rousham says. "I see this as a big win for everybody so far."
The Sustainability Project Fund's Big Wave stream supports projects supports large-scale, transformative projects that have a long-lasting impact on McGill's campuses needing between $100,000 and $400,000. Learn more about how the SPF Big Wave stream catalyzes transformative projects on campus.