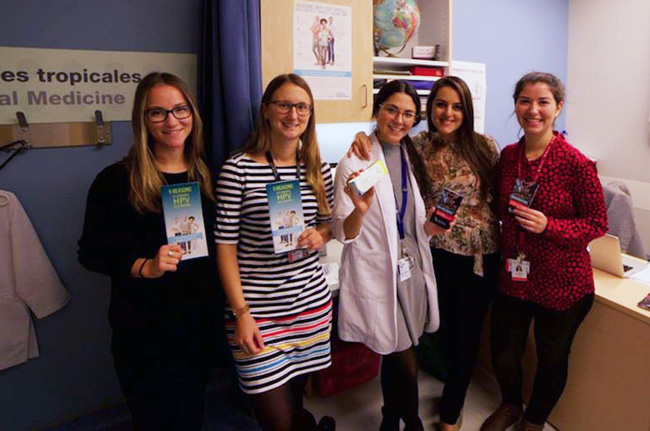 One of three inaugural projects supported by CHASM, the health-related incubator launched last year by a group of McGill medical students, the Community Ambassadors to Conquer HPV, or C.A.T.C.H hope to contribute, as their name implies, to conquering HPV.
As future obstetrician-gynecologists, the group, comprised of Med-4 students Claudèle Brault and Avina De Simone, Med-2 student Amanda Marino and residents Dr. Sabrina Piedimonte and Dr. Marie-Julie Trahan, understands the importance of preventing sexually transmitted infections and counselling patients on safe sex practices.  The team is determined to help tackle the issue, understanding the devastating consequences of HPV, in particular in the context of gynecological malignancies.
While PAP tests and HPV immunization have both been shown to decrease HPV-related diseases, the team notes that multiple barriers lead to suboptimal screening and low immunization rates. "One must have a doctor in order to receive proper screening or to get a referral for a gynecologist," explains Avina. "A prescription is required to buy the HPV vaccine for patients who are not eligible for the PIQ vaccination program, which also requires a doctor, not to mention the high cost of the product itself." As a result, people who are most vulnerable to HPV and HPV-related disease are often the ones that face the greatest barriers to receive the vaccine.
To help address these issues, the C.A.T.C.H. team has a number of plans in the pipeline.  "Firstly, we are aiming to organize a student and resident-led clinic at the McGill University Health Center Travel Clinic to offer PAP tests, HPV vaccination (without a prescription) and sexual health counselling, including sexually transmissible and blood-borne infections (STBBI) screening and contraception prescription," says Claudèle.  "We are also aiming to raise money to subsidize the cost of HPV vaccinations for people who cannot afford them, particularly those who are more at risk for infection and finally, we are aiming to do community outreach to increase awareness among the general public and provide more resources in underserved areas."
Still in its early stages, the C.A.T.C.H. team is hoping to expand and is currently recruiting three new team members. This includes: A Community Outreach Representative who will be responsible for liaising with a local Montreal organization in order to set up a vaccination clinic in the community; a Media Representative who will be responsible for setting up and updating the C.A.T.C.H. website and social media pages; and a Fundraising Representative who will be responsible for organizing events to raise money to subsidize the cost of HPV vaccinations for underprivileged and at-risk people.
The group has been working on developing partnerships in the community, planning a workshop at a local CLSC to provide information on resources and ways to prevent HPV infections as well as other STBBIs and liaising with local community organizations to provide and subsidize the cost of HPV vaccines in high-risk groups.
With no shortage of work to do in order to meet their goals, C.A.T.C.H. has also started to develop their website. "Our website will include a number of features," says Avina, "including a tool to allow clients to schedule appointments online, providing a list of resources for HPV vaccination, contraception counselling, STBBI testing, contributing up-to-date articles on sexual health in general, including apps and other useful websites and keeping people informed of our upcoming fundraisers and how they can contribute."