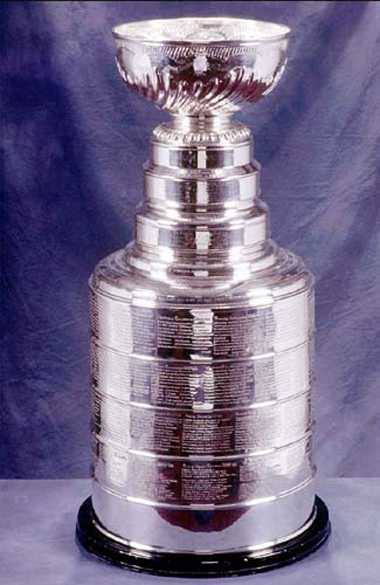 By Earl Zukerman
Jamie Kompon, a McGill University graduate and an assistant coach with the Chicago Blackhawks, has become the first coach in 78 years to win back-to-back Stanley Cup championships with different teams. The last one to accomplish the feat was head coach Tommy Gorman, who guided Chicago to victory in 1934, then led the Montreal Maroons to a Cup conquest in 1935.
Trailing 2-1 in the final minute of the game, Chicago pulled their goalie for an extra attacker and rallied for two goals in 17 seconds to come away with a stunning 3-2 decision over the Boston Bruins at TD Garden, Monday, to take the National Hockey League's best-of-seven final in six games. Bryan Bickell tied the game with 1:16 remaining in the third period and Dave Bolland won it with 58.3 seconds to play — the latest in regulation that the Cup-winning goal has been scored.
Kompon, a 46-year-old native of Thunder Bay, Ont., who previously served as captain of the McGill Redmen and later coached the team, won Lord Stanley's coveted cup last season as an assistant with the Los Angeles Kings. He is the 14th former McGill hockey player to get his name engraved on the Cup and only the third to do so as a coach. The other bench bosses were Mike Babcock (Detroit, 2008) and New York's Lester Patrick, who accomplished the feat twice with the New York Rangers – in 1928 and again in 1933.
This is the third NHL coaching stint for Kompon, who joined the 'Hawks this season after six years with the Kings and nine campaigns with the St. Louis Blues, where he served as an assistant coach, a video coordinator and a strength and conditioning specialist. In the spring of 2006 he was on the Team Canada staff at the IIHF world championships in Latvia, where he handled video duties.
Kompon began his pro coaching career in 1996-97 as an assistant coach with the Baltimore Bandits of the American Hockey League. He also served as co-head coach (with Martin Raymond) at McGill in 1994-95 after being employed there as an assistant coach for three years.
Kompon played four seasons as a defenceman at McGill (1985 to 1989), graduated with a physical education degree, then played two seasons of pro hockey, with stints in the East Coast Hockey League and in the German Elite League.