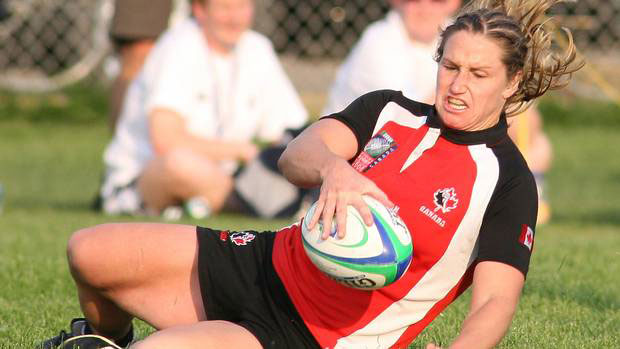 Gillian Florence, a McGill graduate and stellar national team player, is among seven inaugural inductees selected for the Rugby Canada Hall of Fame.
Florence, who graduated in 1998 with a degree in physical education, will be inducted into the player's wing along with Al Charron, Gareth Rees, Rod Snow and Robert 'Ro' Hindson. joining them, in the builder's category, are Robert Spray and Mike Luke. The seven inductees will be celebrated at the annual Rugby Canada Awards Dinner on March 9 in Vancouver, B.C., ahead of the HSBC Canada Sevens at BC Place, March 11-12. The winners will also be recognized on the second day of the tournament. Tickets for the dinner are available online.
Florence, a 41-year-old native of Hudson, Que., is the most decorated Canadian female player of all-time after a two-decade career with the national team. She had a stellar career with Hudson high school (1987-1992), John Abbott College (1992-1994) and the McGill Martlets (1995-1997), where she earned all-conference honours in 1995 after leading the league in scoring. The speedy flanker suited up for Canada a record 66 times and is one of only five women to earn caps in five World Cup tournaments (1994, 1998, 2002, 2006 and 2010). She made her debut for Canada at the tender age of 18 in a 28-0 win over Kazakhstan at the 1994 World Cup in Scotland and retired from international competition in 2011. In 2003, she was named to the All-World squad that played against the New Zealand Black Ferns.
Domestically, Florence played for Ste. Anne de Bellevue RFC for 22 years and represented Quebec for 18 years and was part of the 2000 and 2001 sides that won the national championship. The annual Canadian senior women's player award receives the Gillian Florence Trophy, which is awarded to the "player who best represents the qualities of Canadian rugby as voted by her teammates."
In 1998, she was named by The McGill Tribune as one of McGill's top 20 athletes of all time. A decade after graduating from McGill, she served with the team as an assistant coach and eventually completed a graduate certificate in technical writing at Algonquin College. She has been employed as a technical writer, authoring installation and user manuals for products used by Caterpillar, Inc., in Montreal and at Ultra Electronics Martimes Systems in Dartmouth, N.S.
"We are very pleased that Rugby Canada has approved the seven nominees who had been recommended to be inducted into the Rugby Canada Hall of Fame," said Barry Giffen, past president and chair of the Ways and Means Committee. "This inaugural group of inductees are examples of the commitment and success of individuals who have contributed significantly to Rugby Canada's foundation of world class standards and success.
"It is hoped that this initial group of individuals will set the standard for all future Hall of Famers."
Last October, the Ways and Means Committee was established to develop a plan to honour and preserve rugby's culture and heritage in Canada by recognizing the extraordinary achievements of rugby's participants throughout the country.