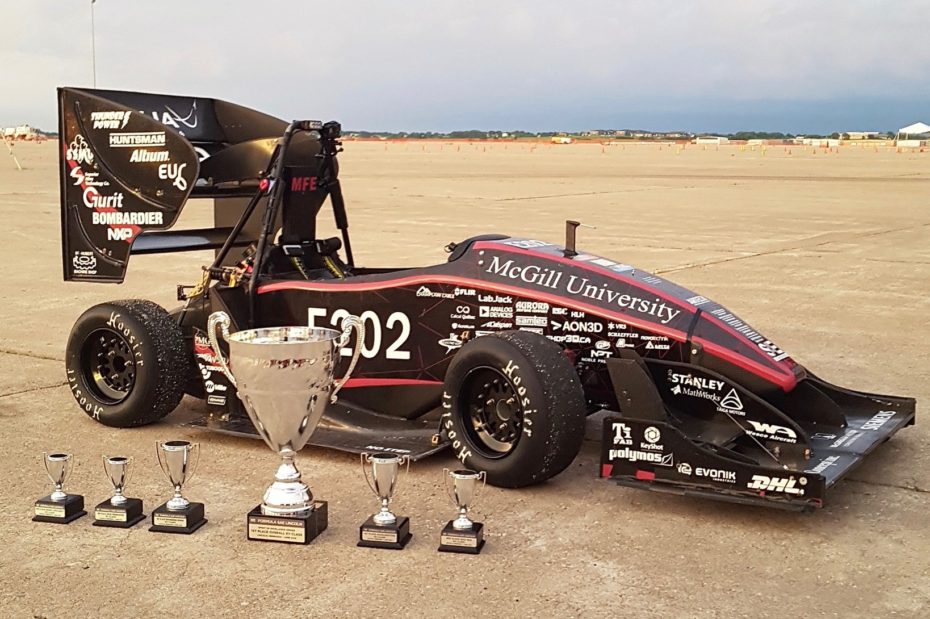 McGill Formula Electric took the checkered flag at the Formula SAE Electric 2019 in Lincoln, Nebraska., on June 22.
The dozens of McGill engineering students who work on the spiffy-looking mini race car not only took first place overall for electric cars at the annual competition sponsored by the Society of Automotive Engineers, but also came in first in two sub-categories, design and acceleration, second in skid-pad, and third in efficiency as well as in business presentation.
In fact, it was a sweep for Montreal at the event that attracted more than 100 universities from around the world – Formule Polytechnique Montréal came in first in the other category, for combustion-engine cars.
The McGill team did not spray each other with champagne, but got perhaps the next best thing out of the experience – lots of interest from next-gen technology firms like Tesla and SpaceX, which have a major presence at the annual event, including as judges.
McGill's electric car project was preceded in the late 1990s by a more traditional combustion-engine Formula-type car. The electric car venture began about six years ago and successive cohorts of students work on it, bringing incremental improvements and technological changes to the legacy design they inherit.
Driven by passion
The two co-captains of the current team, Ella Reifsnyder and Ali Al-Taher, credit Pascal Hubert, Canada Research Chair in Advanced Composite Materials and head of the Structures and Composite Materials Lab for being "a 'big support for us."
The two leads on the electric car project said that the Lincoln event – it's an engineering competition, so there is no actual race – is a passion project for the participants, most of them engineering students.
"It actually takes up most of our time," said Reifsnyder, who just completed her third year in bio-engineering. "A lot of (the roughly 30 students who work regularly on the electric car project) spend more time on the team than they do working on any of their classes. You'll be there until 3 in the morning and then back at 7 am. It's a lot of work."
That work paid off in Nebraska when the McGill team practically ran the table, grabbing most top prizes.
"We actually set a North American record for acceleration," said Reifsnyder. "It was very exciting because less than one hour before we put that run through, we had a run where we hit one of the cones – actually, multiple cones. So, we had to fix a lot of things, then did another run and beat the record. That was very impressive."
Running the gamut of tests
On the first day of the week-long competition, the car's battery pack was taken out and minutely examined to ensure compliance with the "100 pages of rules." The next day, the battery pack was plugged back into the car's systems and again tested extensively.
Then it was on to a bevy of other tests, said Al-Taher: "A mechanical inspection, safety, structural, aerodynamics, brakes, rain, tilt (at 60 degrees) to make sure the car wouldn't just flip over."
"And once we got through all of that, later that day we had to give a cost presentation and a business presentation."
"At the end," said Al-Taher, "they take all the results of the judges' opinions and select the finalists for the next day. We received the news that night that we were finalists."
Reifsnyder said the process is exacting. "Forty judges are asking questions very specific to your systems. 'Why did you do this? How does that work? Why not do that?' Very broad questions about our knowledge of the fundamental design and of each sub-system. And you answer to the best of your abilities."
"They want to see if we are also data driven," said Al-Taher. "We have about 300 sensors and signals on the car, and they want to see how we use all that in the overall design."
High stakes
Prof. Hubert downplayed his role as "a faculty adviser," crediting the students for doing the heavy lifting.
"But I steered them along quite a bit finding sponsors," he added, "telling them the best places to make parts and opening doors for lab tests and parts tests."
"I insist on professional relations and I'm pretty strict about stuff like deadlines, schedules, precise work plans and lab tests," Hubert said. "They can be a bit fiery at that age, but once they get organized, they work very well."
"This is serious stuff, the stakes are important," Hubert said. "Big companies come to recruit these people for major positions. They fight to snap up the best young people."
One such person was David Lemire, who was team leader (2001 – 2005) of McGill's Formula SAE, which predated the electric car version. Lemire, one of Hubert's students, was appointed Lead Structures Engineer for Space Capsule Composites in 2014 at Elon Musk's SpaceX, a company with impressive achievements in space travel and exploration.
To build a more sustainable car
Reifsnyder said that nearly all participants are car fanatics who, "in future, want to work in the automotive sector to create sustainable cars. Other people do it because it's intense, a huge adrenalin rush. You have to work until it happens."
The pair of co-captains are good examples of the passion they talk about.
"I heard about this (electric car) project in my last year at Vanier College," said Al-Taher. 'It was one of the main reasons I came to McGill."
Reifsnyder, from Chapel Hill, N.C., said that at the university recruitment table at her high school, she heard about McGill's team finishing third in design, despite the vastly greater resources other teams receive. "When I heard that, I was like OK, I'm there. I'm in."
"I have one more year in bio-engineering, and then I'll look for a job either in automotive or aerospace," she says.
Al-Taher is also targeting the automotive industry – "a big car company, like Volkswagen…. So, I'll be looking in Germany or the U.S."
Learn more about McGill Formula Electric on their Facebook page