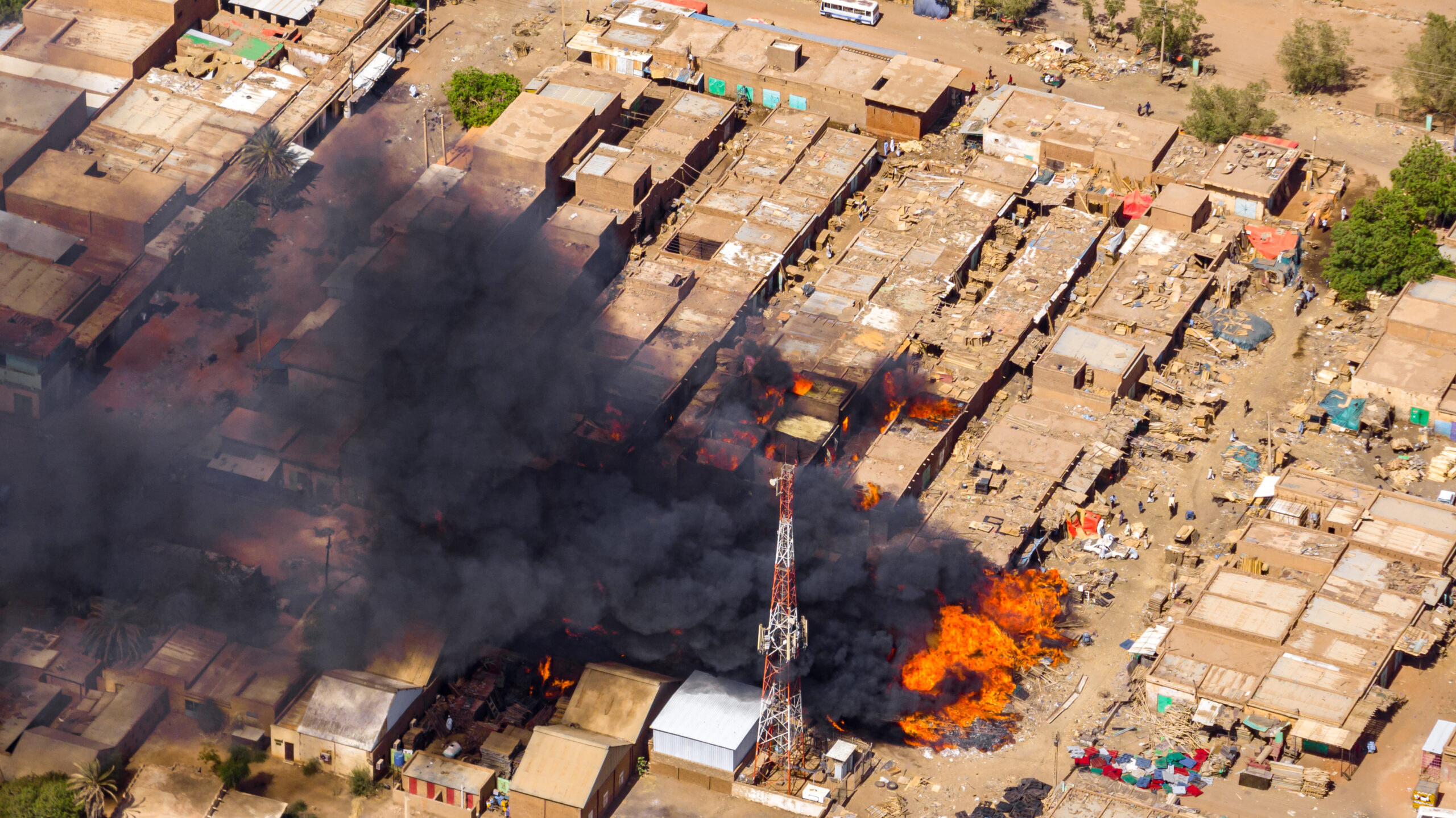 In April this year, intense fighting broke out in the heart of the Sudanese capital Khartoum between the Sudanese army and its heavily armed paramilitary rival, the Rapid Support Forces (RSF). Thousands of civilians have been killed; hundreds of thousands have fled. With neighbouring countries closing their borders, many in Khartoum, a city of 8 million people, have been trapped in their homes, where they are running short of food, water, and essential medical supplies. In recent weeks, violence has also flared up in the Darfur region, with reports of atrocities being committed by both sides and civilians fleeing to neighbouring Chad.
"It's a strategy of really expelling human beings from their homes," says Khalid Medani, Associate Professor in the Department of Political Science and Director of the Islamic Studies Institute at McGill.
"And if that is not accomplished with the force of arms, then it's accomplished through the burning of markets, of food factories, of grain factories – it's an unbelievable form of scorched-earth policy."
A humanitarian crisis of unexpected severity
A Sudanese national with extensive expertise on politics and government in Africa and the Middle East, Medani has been working tirelessly to advance awareness of the unfolding tragedy through media appearances and direct contact with senior officials in Global Affairs Canada and the U.S. State Department.
"I have been talking to many people in Canada – in the media and also to the Canadian government – to impress upon them the level of the humanitarian crisis," he says.
"It is of such a severe nature that it requires a real humanitarian policy. It requires not a strategic discussion of 'is this country important to us?' but a discussion of 'do we as Canadians care about saving people's lives? Is that worthwhile? Should we give them humanitarian visas and allow them to have an opportunity just like so many others deservedly received, like Ukrainians and Afghanis and others?'"
Although Sudan may gain less Western media coverage than, for example, the war in Ukraine, Africa's third largest country, bordering the Red Sea and seven other countries, is of enormous strategic importance for major powers, both in the region and beyond. Paradoxically, global interest in Sudan's location and its rich natural resources counts against hopes for a coherent international response, prioritizing humanitarian relief over strategic interests.
"There's a battle between Russia (and China) on the one hand; the United Arab Emirates, which often has its own economic and strategic interests; Saudi Arabia and the United States; Turkey, who has interest in the Red Sea as well; and, we even had Israel being very forceful in trying to negotiate a normalization prior to this war," Medani explains.
"What even the United States, for example, cannot do is bridge the gap between their part of the strategic coalition and that of Russia and China, for example. That is a tale that has bedeviled other conflicts, such as Rwanda. It's a source of great tragedy when these influential powers have so many differences between them that they are unable to resolve humanitarian consequences. We see that, of course, with the war in Ukraine as a central example; Sudan is no different.
"This is not to say that I am not squarely placing the blame on these two military generals [Burhan and Hemedti] who have decided to destroy the country for their own self-interest. But it's important to acknowledge that part of the conflict in Sudan is rooted in this awful competition over its gold, its water, its resources, its strategic location, and I don't think the Sudanese people deserve to be under that burden."
A sense of personal responsibility
Medani has long been motivated by a sense of responsibility to the history and people of his home country. The son (and grandson) of a diplomat, whose childhood included periods in Lebanon, the former Czechoslovakia, Ethiopia, the United States, and Germany, he says he was raised to represent his country with pride.
In the summer of 1989, Medani, then an undergraduate majoring in development studies at Brown University, travelled home to spend time with his family in Khartoum. On June 30 of that same summer, Sudan was shaken by a military coup that marked the beginning of a 30-year period of autocratic rule under Omar al-Bashir.
"I saw firsthand the detention, imprisonment and execution of human rights activists in that military coup," says Medani, recalling the moment that would spur him to pursue a career devoted to understanding Islamic militancy and the causes of civil conflict in Africa.
"I began to be obsessed, really, with political science, and my particular interest in the political economy of Islamist movements and Islamic militant movements grew from that very personal experience."
Unable to return home for six years
The violence of the Bashir regime hit especially close to home when a member of Medani's family was wrongfully executed. Pursuing his studies in the U.S., Medani's mother urged him to write an article in the man's honour. The piece, a critical appraisal of the factors contributing to the rise of Islamism in Sudan, would become his first published academic paper.
For his safety and that of his family, Medani published the article and several that followed under a pseudonym. But, by the mid-1990s, an Arab journal revealed his identity as the author when it translated and re-published his work in Arabic. Medani, who by that time was working as a researcher at the Brookings Institution, an influential Washington think tank, says he was unable to return to Sudan for six years afterwards.
"[The Bashir government] found that to be a great danger that they would have someone like me writing these publications based at the Brookings Institution," he says. "So, they called and they said to me – I always recall this – 'Well, if you're not concerned about your own life, you should be concerned about your family's life in Sudan.'
"It was only after they began to fall apart and fight with each other in 1999 and 2000 that my father called me and said, 'They're fighting amongst themselves, you can come back home.'"
Amplifying the voices of Sudan's youth
After completing his PhD at UC Berkeley, Medani pursued his academic career with professorships at Oberlin College and Stanford University, before joining McGill in 2007.
Around 2010, determined not to lose heart despite ongoing conflicts in Sudan, he began to shift the focus of his research towards youth organizations calling for democracy in the country. Witnessing the pro-democracy protest movements of the early 2010s, collectively known as the Arab Spring, Medani dedicated himself to working with groups of politically conscious young people agitating for similar changes in Sudan.
"In our part of the world, there's a great deal of ageism in terms of politics and intellectual life. Young people are not given the autonomy intellectually, or even politically, that we see at, let's say, McGill," he says.
"I wanted to really amplify their voice and study their organizations to find out what the new generation was thinking in terms of a future, and also how they were able to mobilize so successfully under such an authoritarian regime.
"By 2018-19, when the revolution happened, it was for me nothing short of wish fulfillment – not only because I'm Sudanese, but because I had been working on this for many years, making sure that they got their due in terms of their autonomy and their courage."
Civil society crucial to lasting peace
Among the groups Medani has studied are grassroots, pro-democracy networks known as resistance committees.
"They began as voluntary groups – young people cleaning up the streets, providing food and healthcare in poor neighborhoods," he explains. "Then they found themselves historically in this position where they came to speak for millions of Sudanese. They are important because of the legitimacy that they have in local communities."
Medani emphasizes the word 'legitimacy' when speaking about civil society organizations like the resistance committees – groups that he sees as having a crucial role to play in an eventual resolution to the present crisis.
"There are also a lot of unions and associations, including the doctors' unions, pharmacists' unions, the Sudanese professional association, and a huge network of women's organizations."
While he is under no illusion that the turmoil in Sudan will end soon, Medani cites examples of other African nations, including Liberia, Sierra Leone and Rwanda, where the participation of civil society groups has been instrumental in resolving protracted armed conflict. He says the international community must insist that civil society groups have a seat at the table in negotiations to resolve the conflict in Sudan.
"What we know from the work on conflict resolution is that the inclusion of civil society organizations sets a particular kind of agenda that is very useful in the negotiations themselves.
"Civil society groups can also be a monitoring mechanism. Right now, there is a big issue with who's monitoring ceasefires. And, finally, they also really are the most important factor in making conflict resolution durable – that is, truly getting war to end."
Help in a time of crisis
For McGill Reporter readers considering making a donation to support civilians impacted by the violence in Sudan, Khalid Medani notes two fundraising appeals for organizations that are aiding Sudanese directly within Sudan:
Sudan Doctors' Union through the University of Toronto Sudanese Student Union
All proceeds collected will be used for emergency medical relief to support civilians caught in the violence.
The Tea Vendors' Union in Khartoum
This fundraiser is to support women street vendors in Sudan through one of their associations – Kul Almihan. "Tea and food sellers are amongst the hardest hit groups, says Medani . "These are some of the most courageous, caring, and supportive women in the country. Many of them are war-displaced from marginalized regions of the country and came to Khartoum years ago seeking refuge. Your donation will cover urgent food, hygiene, medical, and other basic needs. Above all, it will prevent death among those who cannot afford to stay at home and must sell food and tea on the streets, during attacks."