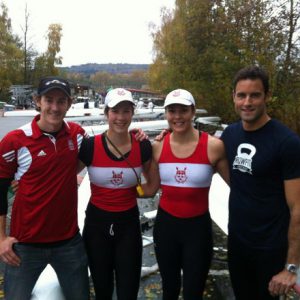 By Earl Zukerman
Two McGill University rowers – Kalyna Franko of Toronto and Luce Bourbeau from the Madeleine Islands in eastern Quebec – teamed up on Sunday to strike gold in women's pairs at the 16th annual Canadian University Rowing Association championships at Burnaby Lake.
It was the first podium finish for any McGill women's boat in six regattas this season and marked the first time since the national championship began in 1997 that a McGill women's crew had claimed gold. It was especially unexpected since they were third in Saturday's time trials, behind top-seeded Calgary and second-place Western.
"This a very significant achievement as the women's pair is one of the most competitive and technically challenging events in rowing," said Dr. Philip Hedrei, head coach of the McGill club. "It is a testament to the hard work of our numerous volunteer coaches that translate their expertise and passion to all of our rowers. Above all, it sends a very strong and inspiring signal to the whole team, especially those in the women's varsity and novice programs."
Franko is a psychology senior and Bourbeau is a political science junior at McGill. It's the second impressive performance in the past three weeks for the duo, who are both 21 years old. They also teamed up to finish fourth of 46 entries in the club fours category at the prestigious Head of the Charles River regatta in Boston on Oct. 21.
"Both Kalyna and Luce started out as novices in our program (in 2009 and 2010, respectively)," explained Hedrei. "They quickly fell in love with the sport, as the majority of our novices do, and formulated, with the help of their coaches, a set of goals and went to work. They devoted themselves tirelessly to their training, especially during the long winter off-season indoors and also by rowing competitively full-time during their summer months."
Since joining the McGill club, they have been coached by Christian Dabrowski, Norah MacMillan, Emma Bedard and currently, Brent Hopkins.
"They are outstanding athletes in every sense in terms of their work ethic, attitude and coachability. They are leaders for the future of our women's program and will achieve continued success both in sport and their life endeavours. I am exceptionally proud of them and of their coaches," said Hedrei.
Other notable results for McGill over the weekend, was a fifth-place finish for the men's pair of Mark Abraao-York of Toronto and Liam Kirwin of Edmonton. The men's coxed eight ended up sixth overall in a boat that was composed of Lucas de Gelder of Vancouver, B.C., Amédée d'Aboville of McLean, Va., Tom Portsmouth from France, Liam Kirwin, Ford Donovan of Thornhill, Ont., Alex Langslow from China, Mark Abraao-York, Marc Bedard of Pointe Claire, Que., and coxswain Colin Cheng of Vancouver, B.C.
McGill was seventh in the men's lightweight coxed four, which featured Robert Laniel of Gatineau, Que., Nathan Hawkins of Vancouver, B.C., Kyle Leroux of St. Lazare, Que., Ian Hitchcock of Victoria, B.C., and coxie Colin Cheng.
The Victoria Vikes earned their third consecutive national women's title and 11th overall with a points total of 101. UBC finished second, only two points back, followed by Western with 98. On the men's side, Brock registered 101 points to finish first overall for the fifth time, edging out UBC by one point. Western was third with 96.