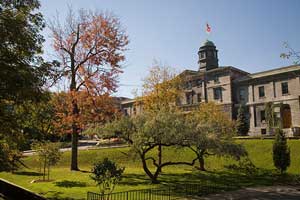 Leading public university in North America and top Canadian school
By Doug Sweet
McGill has moved up in the prestigious Times Higher Education-QS world university rankings for 2009, placing 18th, it was announced earlier today in London.
It's the sixth year in a row McGill has ranked in the Top 25, the only Canadian school in that elite group. Climbing higher this year reinforces the University's position among the upper levels of higher learning worldwide. Previously, McGill has placed 21st, 24th, 21st, 12th and 20th.
"I am delighted to see that the University has once again been recognized as one of the world's leading institutions of higher learning," said Principal and Vice-Chancellor Heather Munroe-Blum. "This is a truly remarkable achievement that speaks to our continuing dedication to performance, the important accomplishments of our world-class faculty and staff and our truly outstanding students and alumni.
"As I have had occasion to note before," she continued, "one must not forget that McGill's very high ranking is achieved in spite of a dramatic funding differential between us and the schools with which we are compared. We are gratified that we are ranked as the leading public university in North America again this year."
QS Quacquarelli Symonds is a leading global career and education network, which, in collaboration with Times Higher Education, a comprehensive website devoted to higher education jobs, news and resources for university professionals, produces respected annual rankings of the top universities.
This ranking is a composite indicator that integrates peer review and opinion with quantitative data. Forty per cent of the total score is based on academic peer review. Another 20 per cent is awarded for research excellence and impact as measured by citations. A further 10 per cent is derived from a survey of active graduate recruiters for major employers, who respond to questions about institutions from which they prefer to hire. A university's staff-to-student ratio – a classic gauge of a commitment to teaching – is also worth 20 per cent. Finally, the survey allots five percentage points for number of faculty who come from other countries and a further five for percentage of international students.
In total 9,386 academics (compared with 6,354 in 2008 – an increase of 47 per cent) and 3,281 employers (compared to 2,339 in 2008 – an increase of 40 per cent) responded to the surveys, reflecting the growing influence and importance of the rankings.
"Governments and universities around the world are investing to increase their profile and recognition on the international stage, as higher education becomes an increasingly global industry," noted Nunzio Quacquarelli, Managing Director of QS in a statement. "Today the rankings are used by employers identifying from where to recruit, academics choosing where to work and with whom to form partnerships, and by parents and students looking to make a sound education decision. Although rankings are
contentious, the Times Higher Education-QS World University Rankings are meeting vital needs of these various stakeholders."
Again, this year, McGill placed 10th in the world in the Life Sciences category.
"We are delighted to be recognized again for our excellence in Life Sciences," Prof. Munroe-Blum said. "From William Osler to Wilder Penfield to Brenda Milner, our contributions to medical science and health care are legion. We are proud to represent Montreal, Quebec and Canada at such a high level in such an important field of human endeavour."