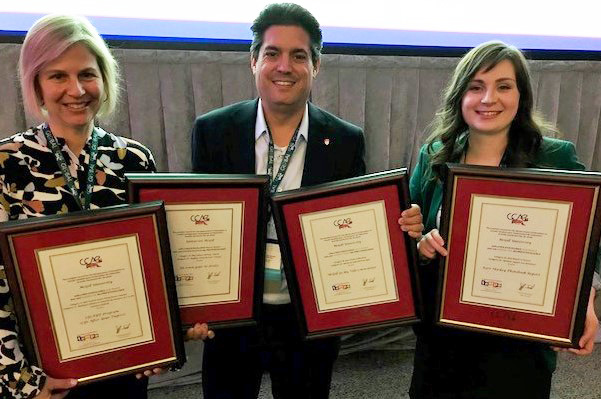 McGill has once again been recognized for outstanding success in advancement, winning four Prix d'Excellence awards at this year's Canadian Council for the Advancement of Education (CCAE) national conference in Halifax, Nova Scotia.
The Council's prestigious Prix d'Excellence awards are considered the gold standard for achievement in educational advancement in Canada. This year McGill captured a total of four medals in categories encompassing traditional print content, digital communications, donor reporting and young alumni engagement programming.
Here is the complete list of McGill's 2018 CCAE Prix d'Excellence awards:
Gold Medals:
Best Student and/or Young Alumni Initiative for our Life After Your Degree (LifeAD) program – a multi-level alumni-student engagement program that delivers a series of in-person and online events focused on providing McGill's upper-year students with career and life transition skills.
Best Report to Donors for a customized photobook commemorating the 10-year anniversary of a landmark gift to our women's hockey program by McGill alumni David and Sheryl Kerr, and demonstrating the impact their generosity has had on the program.
Silver Medal:
Best Online Publication for our McGill in My Ville e-newsletter, featuring news about the university, alumni profiles, and event listings and announcements. Several regional editions include locally focused content to build engagement and a stronger connection to the University among McGill's international alumni base.
Bronze Medal:
Best Feature writing in French for the McGill News article, En Route Pour Les Étoiles, about McGill graduate and astronaut David Saint-Jacques.