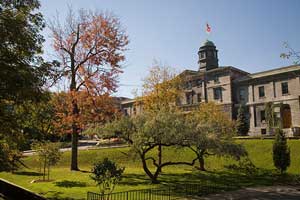 We rank No. 1 in Canada, No. 10 worldwide in life sciences
By Doug Sweet
McGill has again been named one of the Top 25 universities in the world by the prestigious Times Higher Education-QS World University Rankings. And once again, we're No. 1 in Canada.
McGill placed 20th this year on the list of 604 schools evaluated in the rankings, a composite indicator that integrates peer review and opinion from around the world with quantitative data. No other Canadian university has placed in the Top 25 in the five years the rankings have been issued.
"It is gratifying to see McGill has once again been recognized as one of the very best universities in the world," said McGill Principal and Vice-Chancellor Heather Munroe-Blum. "It is important to remember that there are nearly 10,000 universities worldwide, so even to be included on the THE-QS list of 604 is a remarkable achievement."
And McGill, she said, manages to achieve its high score despite a more difficult funding environment than those experienced by other competing universities.
"That we have managed to maintain our impressive standing in spite of this critical funding situation is testament to the dedication of our world-class faculty and staff and their ability to attract competitively allocated research support," said Prof. Munroe-Blum. "It is also a tribute, of course, to our outstanding students and alumni, as well as our strategic approach to sustaining academic excellence and applying and managing our resources."
Over the past five years, McGill has placed 21st, 24th, 21st, 12th and now 20th. A look at THE-QS rankings over that time shows that moderate movements up and down can occur, depending upon a variety of factors. Examining a school's position over a period of several years, however, gives a fairly clear picture of its standing.
Two other Canadian universities made the Top 50 – the University of British Columbia (34) and the University of Toronto (41). Dalhousie joined the Top 200 this year for the first time. Harvard remains the No. 1 university in the world, with Yale moving ahead of Cambridge for second spot, while Oxford ranked fourth.
A statement by THE-QS said this year's ratings reflect the increasing profile of technology-based universities, such as Caltech and MIT, as demand for more technology-literate graduates has grown commensurately.
This year's rankings have received unprecedented response levels from both the international academic community and employers, the British-based organization said. An increased number of academics (6,354 compared with 5,101 in 2007) and employers (2,339 compared with 1,482) responded to the surveys.
As part of the rankings, a number of sub-rankings are also published. In this year's THE-QS rankings, McGill placed 10th in the world in the life sciences category.
"This very encouraging ranking comes only days after we officially opened our new Life Sciences Complex," Prof. Munroe-Blum said. "That project, the largest in McGill's history, realized through generous private, government and institutional support, will keep McGill at the forefront of biomedical research and result in benefits to human-kind everywhere."
For more information on the rankings, you can visit http://www.topuniversities.com