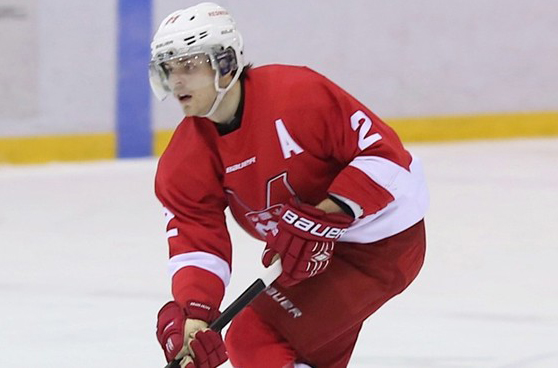 By Earl Zukerman
MONTREAL – Sophomore defenceman Jean-Philippe Mathieu of Loretteville, Que., scored the game-winner at 10:10 of the third period as McGill rallied to defeat visiting Carleton 3-2 at McConnell Arena, Saturday. The result evened their best-of-three OUA East final series at 1-1. The rubber match will be in at the CU Icehouse in Ottawa, Sunday at 7 p.m. The game will be webcast on SSN with live stats available.
It was the first Redmen conquest versus Carleton in four attempts this season – the previous three losses were all on the road – and improved McGill's lifetime record in head-to-head confrontations to 23-20-1 lifetime.
"We brought a high compete level tonight and we're fortunate to get the win and take it back to Carleton for Game 3," said head coach Kelly Nobes. "We're in a battle with a very good team that's well-coached and plays with structure. We're going to have to be at our best in Game 3 to win the series on the road."
After a scoreless first period, the teams traded second period markers. Redmen sophomore Mathieu Pompei of Laval, Que., intercepted an errant pass from Carleton goalie Francis Dupuis and pocketed the puck into the open net to put the home side up 1-0 at 6:56. The Ravens tied it on a power play when Damain Cross connected at 17:31.
The see-saw battle continued in the middle period. Only 65 seconds in, Michael McNamee put Carleton ahead 2-1 with another PP marker. But rookie Alexandre Comtois knotted the score for McGill at 3:19, with his third post-season tally, setting the stage for Mathieu's heroics, a seeing-eye snapshot from the blueline.
"J.P.'s been great for us the last two games," said Nobes. "He's a great competitor, cares a lot about this team and has been bringing his 'A' game in the playoffs."
McGill had a 34-31 edge in shots as rookie 'keeper Jacob Gervais-Chouinard made 29 saves, including a half-dozen superhuman efforts for the victory, improving his post-season record to 5-1. Dupuis, his counterpart at the other end of the ice, made 31 saves in a losing cause as his record tumbled to 5-2.
The Ravens were 2-for-6 with the man-advantage and shutdown all three McGill PP chances.
Should McGill win Game 3 of the series, they would advance to the OUA gold medal game for the Queen's Cup in Windsor, Ont., next Saturday. Despite McGill's better record, Quebec-based teams are not allowed to host an OUA championship. Should Carleton win, however, the Ravens would host Windsor in the title match.
A McGill loss to Carleton, would not end the season for the Redmen, Since the OUA has a third berth at Nationals this season, McGill would host the Lakehead Thunderwolves from Thunder Bay, Ont., in an OUA bronze medal game at McConnell Arena, on a date yet to be confirmed. The winner of that game gets the wild-card berth but a lower seed at Nationals. A Ravens loss to McGill would mean that they host Lakehead in an OUA bronze medal game. The wild-card berth rotates from conference to conference each year.