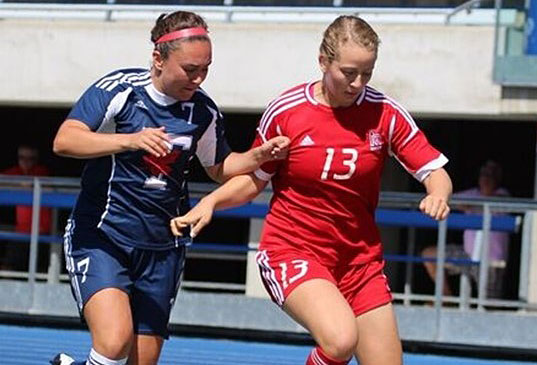 By Earl Zukerman, McGill Athletics and Recreation
Lisa Perrett, a senior defender from Vancouver, B.C., converted a corner kick made by Audrey-Ann Coughlan in the 68th minute of play as McGill's women's soccer team blanked Toronto Varsity Blues 1-0 on Sunday to capture the Old Four soccer tournament at U of T's Varsity Centre.
It improved McGill's record to 3-0 in preseason play and was the first tourney title for the Martlets since 2012.
"I'm very happy with the way we're playing," said Jose-Luis Valdes, in his fourth season as head coach of the Martlets. "We're already implementing the style of play that we want to utilize for the season. When you win, it's easier to convince them that this is how we want to play. We've been able to maintain a higher ball-possession time in almost every half that we've played this past week, so that's a very positive sign. Offensively, we have more scoring depth than in recent years."
McGill goalkeeper Cassandra Fafalios, a political science senior from Richmond Hill, Ont., made four saves to earn the shutout. U of T rookie Vanna Staggiolis registered five saves in a losing cause.
Both teams had chances to score early in the contest. Staggiolis was put to the test when McGill's Daphnee Morency-Roussin found herself with an open lane in the 19th minute, but Staggiolis came up with the stop.
Minutes later, Blues veteran midfielder Nicki Parkes broke into the box and hammered a shot off the crossbar. Morency-Roussin followed that up with a booming shot into U of T's post just over a minute later.
Two more exhibition contests remain on the Martlets schedule before regular season play begins. McGill will put their modest three-game win streak on the line when they play host to St. Michael's College, an NCAA team from Burlington, Vt., on Aug. 24. Kickoff is 6 p.m. at Percival Molson Stadium.